Hello and welcome to my Re Build Diary Page 2,
26 December 2007
Today I removed the front hubs steering rack and colomn and started removing paint from the floor and main chassis.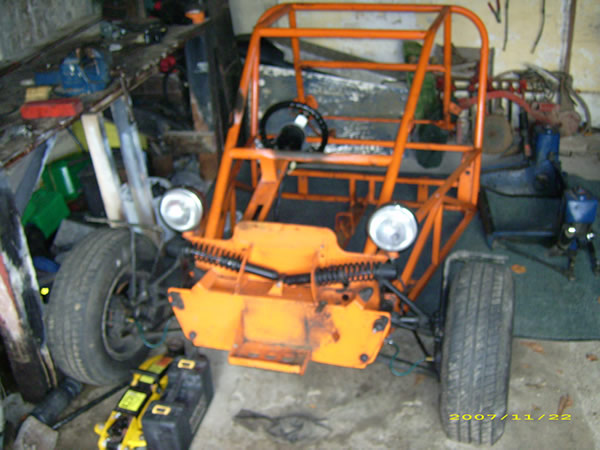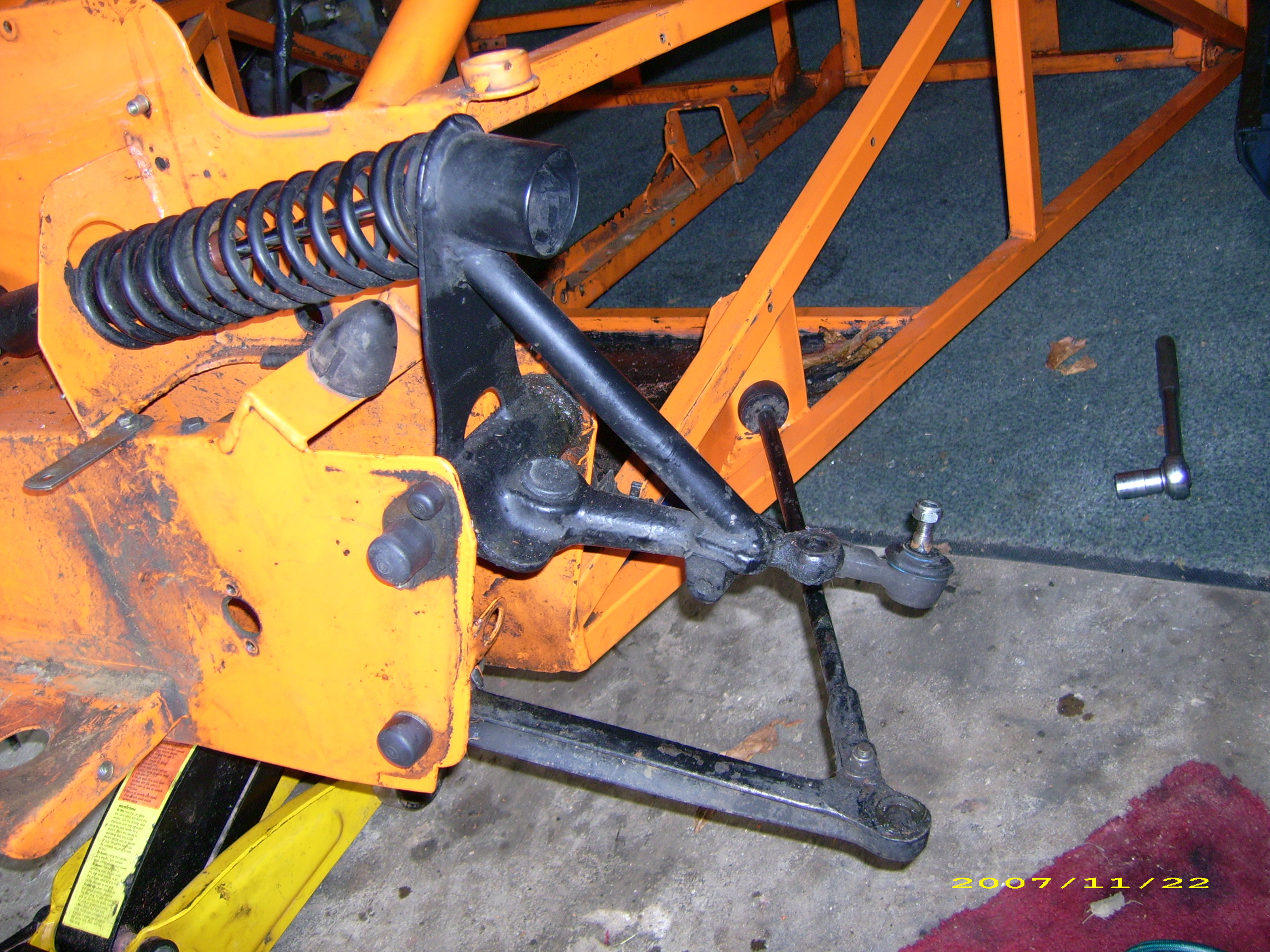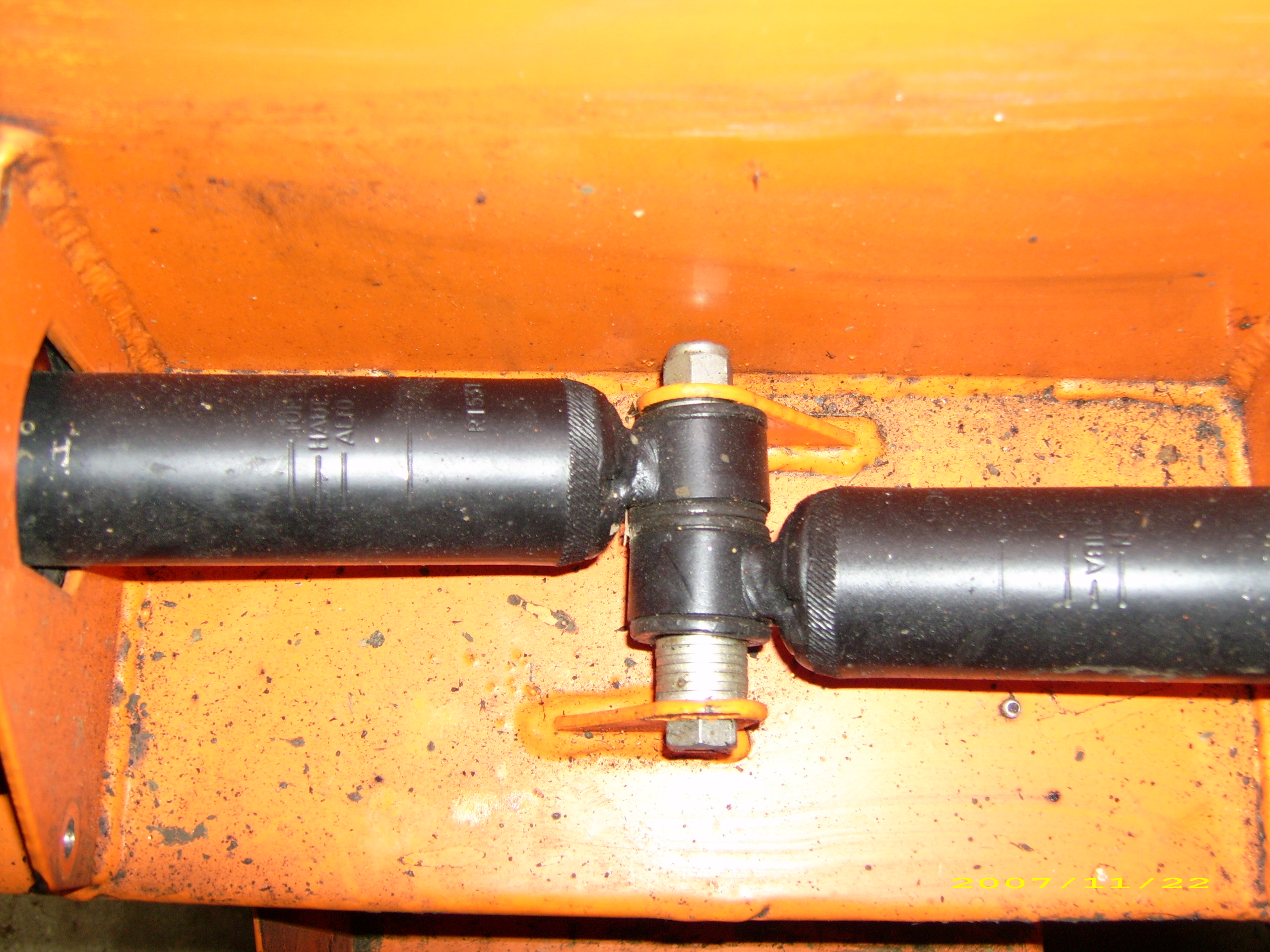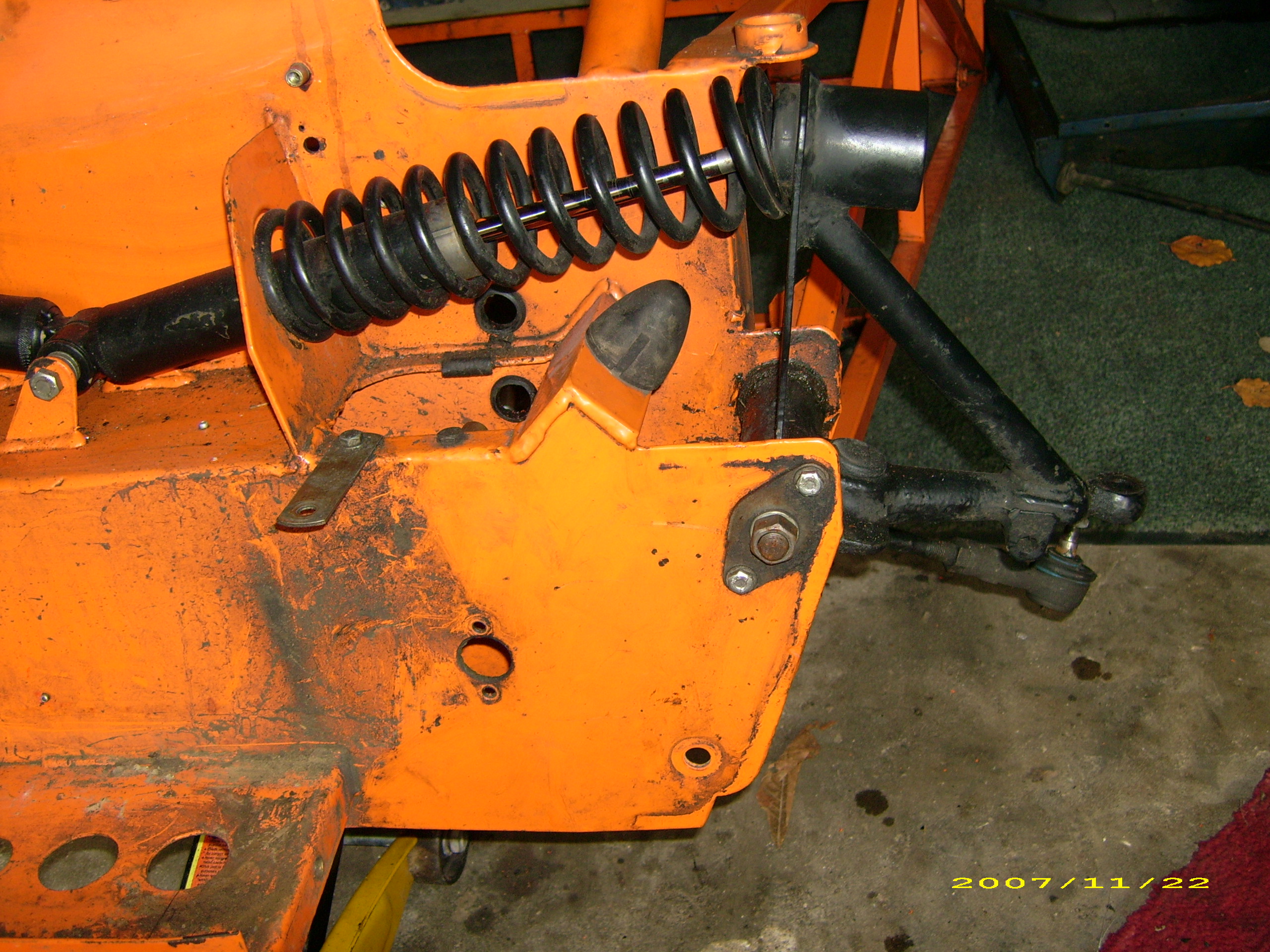 I am looking at doing the adjustable front suspension conversion on the rebuild so I am going to go away and have a think about what extra modifications to the chassis I am going to need to do.
29th December 2007
Today I decided that I am going to go with the standard set up for the front suspension as I know this works and I shouldnt have any problems setting up. However I will be using completly adjustable tiebars and bottom arms so that I can get that all sorted properly.
I also took a wise decision and not remove all the powdercoat, it is just a complete pig to get off and I just dont have the time. I made the phone call to Ian at IP Bodycraft and he said that he will paint over the powdercoat now problem…. thank god.
So on with fitting the pedalbox, I studied so many photos of other peoples buggies and tobe honest i was ggeting more and more confused as to what to do so I got a small pair of G clamps out and started clamping the pedal box in and I put my seat in and started see what was more comfy for me (sod the passenger!) so I have come up with a compromise…. (probably change again tomorrow)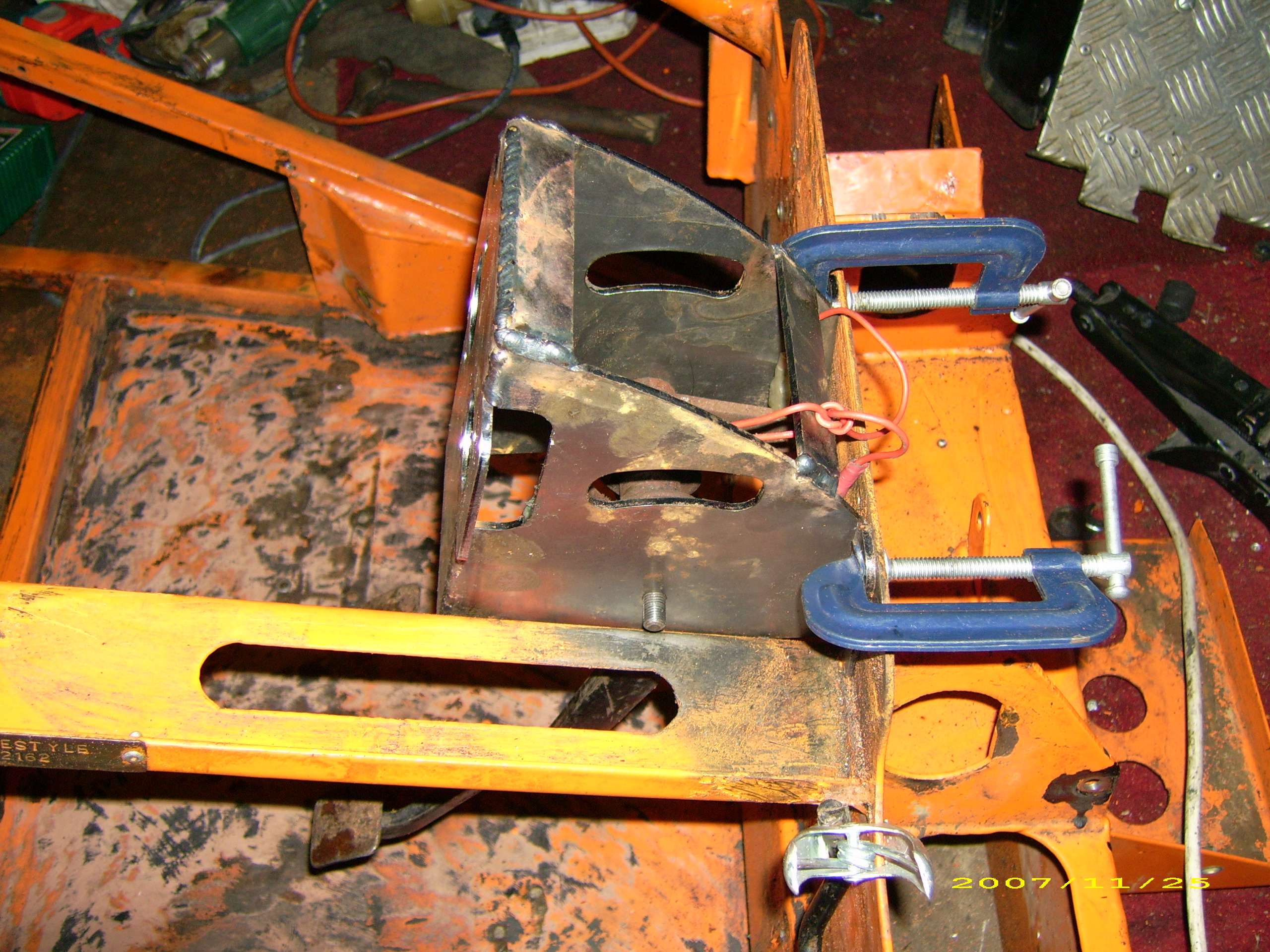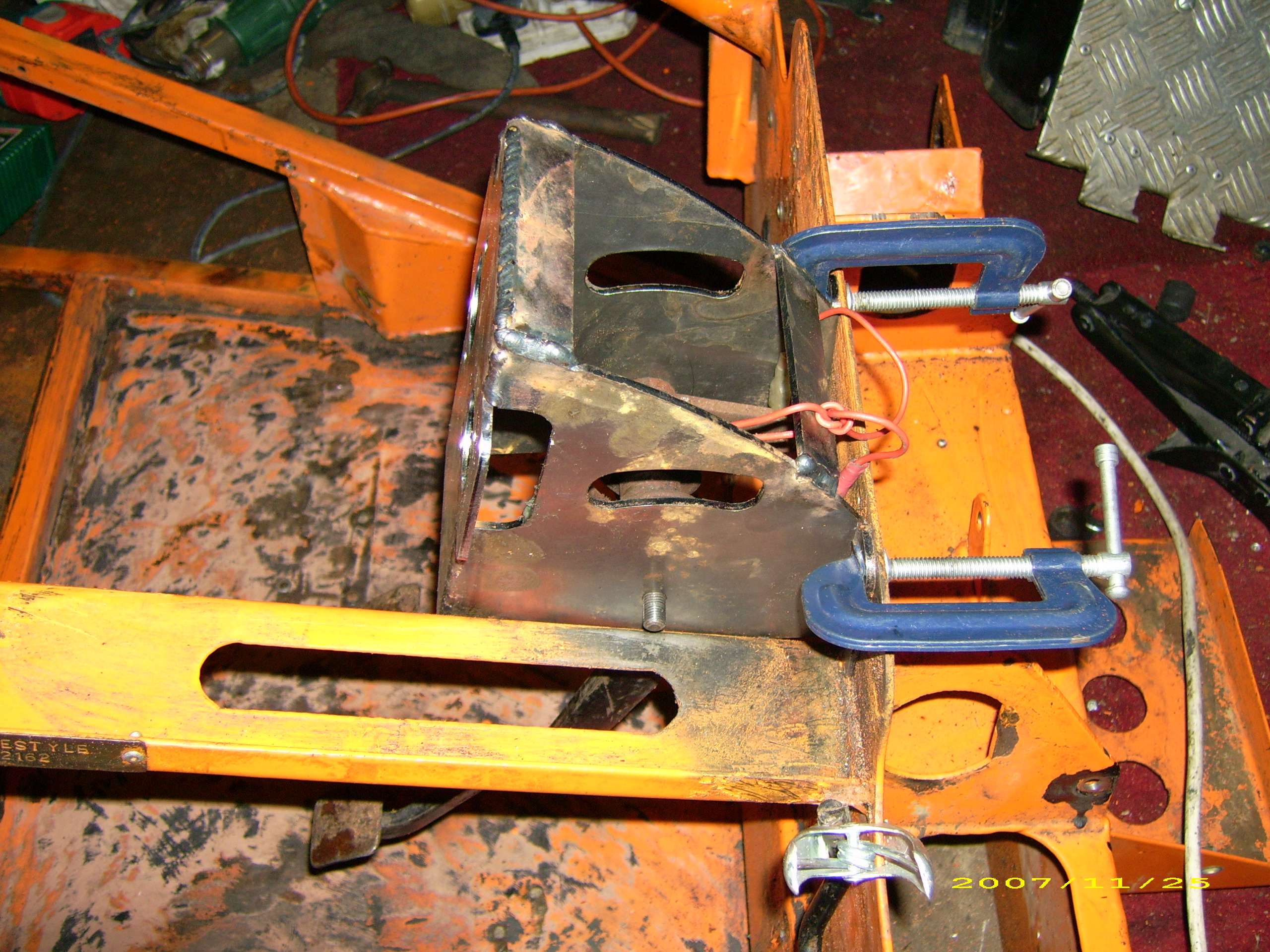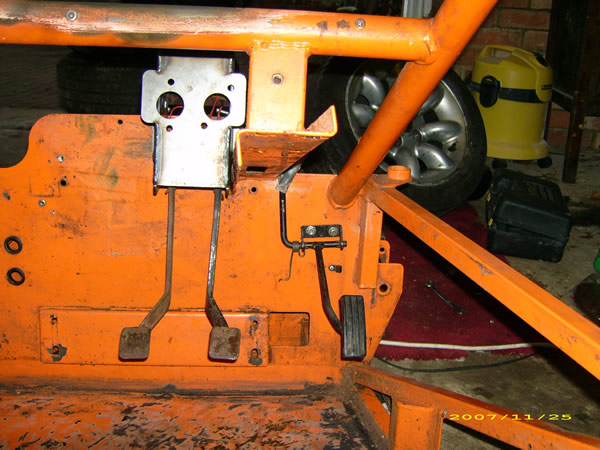 And looking at it as I write this I can say it will change tomorrow!!!
So for the rest of the day I grinded my wing mirrow brackets off and filed them nicely so that you will hopefully not notice that they were there…. tomorrow will tell when I attempt welding them.
So tomorrows plan is to:
Fit and weld in pedalbox
Fit and weld wing mirror brackets
Tidy where i have started to remove powdercoat ready for painting
31st December Monday
So today my brothing law is round to help do some welding, we managed to get the wing mirror stems welded on and removed a lot of the powder coat too.
Welding was definiately the main problem due to that fact both myself and Richard cant do it, but we both have spent ample time round welders so between us we got it pretty ok (after the angy grinder sorted it).
The other trying part of the day was actually trying to clamp round tubing to round tubing but after a few bits of wood and g clamps everywhere we managed to get them lined up nicely. We also had to adjust the Bird mouthed tube a bit to allow for the stems to line up properly.
Today we also tried fitting the chassis into the back of my escort van far enough so I could drive it safely about 2 miles to the paint shop and very much to our surprise it fits in far enough to be safe but we couldnt shut the doors but that did not really matter because we will just ratchet strap it in.
So tomorrows plan is to:
Fit Pedal box
Remove the rest of powdercoat
Get generally prepped for saturdays visit to the paint shop
To carry on reading click here to go to page 3 of my re build diary