I have an area on my porch roof that is South facing and thought that would be an ideal spot to put a few panels up and that is where it all started........
Next step was to construct a frame but I didn't want the weight of the panels to be directly on the roof causing extra loading, leaks etc. What I did was to use Unistrut for the frame and cantilever brackets mounted on the wall so the frame was tied in with 8 fixings.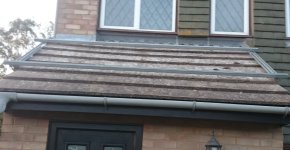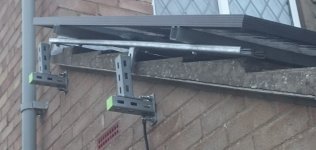 The 35mm2 connection shown here is an earth strap, I figured if it got a bolt I didn't want it feeding back to the charge controller or inverter.
I used Hilti Fix resin to bond in the mounting studs.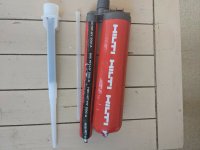 With decent feed in tariffs a thing of the past and the current option of grid tied systems that let you use your generated solar before any excess being exported to the grid I couldn't see working when you are out all day when the sun is up and back when it is not generating.
I decided to put together an off grid system that fed into a battery bank when not using the solar.
The primary focus was to heat water as this is one of the biggest loads and would contribute to a good saving and would be easy-ish to calculate the pay back period.
The first mistake I made was to use the 3kW immersion heater already in the tank and sized my inverter accordingly. I found with such a big load it was just cycling the battery bank.
I opted for a 24V system. Reason being a 24V inverter uses half the current a 12V inverter does. With my 3kW water heater on I was seeing a 125 Amp current draw from the battery. A 12 Volt inverter would have pulled 250 Amps. A 48 Volt system would have been the best design solution but 48 Volt pure sign wave inverters even though they are manufactured never come up on ebay 2nd hand.
My battery bank is 280Ah at C10 rating
280Ah / 125A = 2.24 so this looked like the bank was well undersized for the load.
By swapping out my 3kW for a 1 it would reduce my load by a third
280Ah / 41A = 6.71 which gets me closer to my 280 Ah C10 rating
By not achieving the C10 rating it reduces the amount of capacity so to mitigate I only cycle down to 80% 20% DOD (depth of discharge).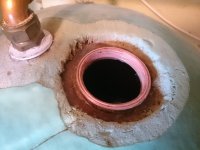 I have now swapped out for a solar friendly 1kW immersion element but could have gone for a 1.5kW to speed heating up.
27" 1.0KW Solar Panel Immersion Heater
The panels I used were 270 Watt, I have 3 on the roof and another around the back West facing, the 4th panel helps to mop up the afternoon and evening sun maximising the daily solar harvest. So just over a 1kW array.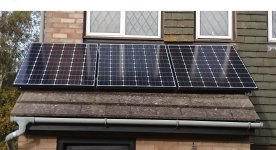 Discounting the oven as that is effectively hard wired in and would require a change over switch in the distribution the next biggest load is the washing machine. Looking at current draw it probably has a 2kW or there abouts heating element in. It is no trouble to run this off the inverter and again helps to contribute to pay back.
Solar panels seem to be getting cheaper but what is actually happening is that the cost is the same but you get more Watts for your £. The design life of a panel is 20 - 25 years. I saved on installation costs and the bit that is expensive is the solar charge controller and inverter. The cabling is inexpensive, to reduce volt drop in my cable runs I used 6mm CSA 2 core for the DC. The solar fitters always use 4mm singles for some reason.
My solar charge controller I first used was a PWM, these have now mainly been superseded by MPPT variants. I was hesitant to make the change because of cost reasons but my solar harvest increased by 25% as the MPPT actively scans the power curve and hunts for power.
When I ran the PWM charge controller I fed each 24 Volt panel into a junction box in parallel to sum the current. Now I have moved over to MPPT I have reconfigured the array to be wired in series to sum the Voltage. The MPPT looks at the combined system Voltage and converts it to 24 Volts at the most efficient way to charge the bank and feed the inverter.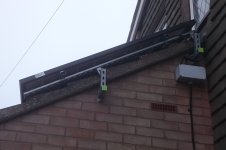 To monitor the system there is a Victron BMV, the loads are wired through a shunt and gives you an accurate read out of your load current draw, power consumed, power harvested and solar in. Also system Voltage, battery bank capacity plus a whole load of other useful features.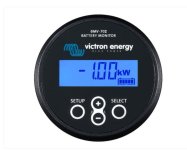 The charge controller is really clever it gives you so much information to help monitor your system, trend data and improve your design.
I use the Victron connect app to monitor system data via the built in bluetooth and am working on a telemetry unit to host this remotely on an Odroid C2 so I can monitor my system from anywhere.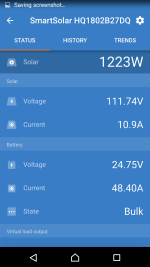 This pic shows
Solar coming in at 1.2kW
Array Voltage 111V
Array Current 11 A
Battery Voltage 24V
Battery charging at 48.4 A
I was seeing a yield of around 6.5 kWh on a blue sky day, blue sky and no cloud from when the sun rises to when the sun sets. I call these Super Solar days and there are not many of these in a year! There is always a little cloud and over the course of 8 hours this detracts quite a bit from the daily harvest. The sun seems to come out in the morning and disappear or come out in the afternoon. It can be a grey day and then the sky clears completely at night which happens quite often.
The 6.5 kWh was seen in April so in the summer months I thought I may see 8 or 10 with the extra day light hours. What happened was I never saw more than 6.5. I found out that the panels are more efficient when they are cold in the spring, this leads to higher system voltages and the angle of the low sun seems to help too. In the summer the sun was higher and the panels were much hotter and seem to struggle. This was all good data to help with system improvements and upgrades.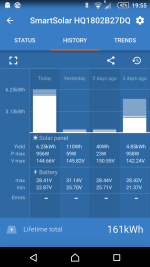 The charge controller gives good feedback and you can see when we have had a week of really good weather and when not so good.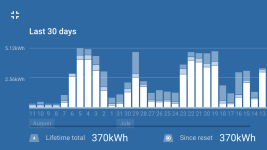 To be continued.....