Again mainly for my own log, didn't get a lot done yesterday son came over on his Daytona & we replaced the headstock bearings, then the brother in law brought nephews moped down as he'd stripped the exhaust stud threads out of the block, not a lot we can do without heli-coils, we managed to bodge it so he can get to college next week.

Moved onto the rear arches, they are really designed for the earlier hubs so had to make some brackets to mount into the ABS brakes holes,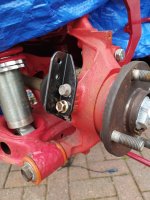 I used 2 different bolts just to ensure that @Danny has nightmares about them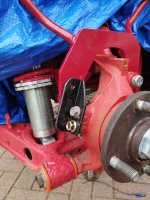 Drilled the mounting holes & filled them together,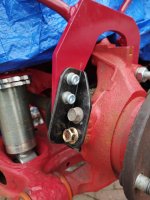 Which left other side with a 10mm gap, it could be pulled in but that put a twist into the metal which I didn't think was good,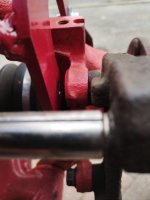 Spaced them out & used a longer bolt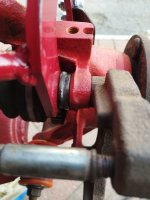 Getting a bit stuck on the wiring, can't seem to get enthusiastic over It which is unusual as I normally enjoy it, so thought I'd look at the brakes, included from previous owner was a brand new set of rear disc, unfortunately when I tried them they were the wrong size. There are 3 different size discs for the rears & 3 sizes for the front, luckily I had some of the correct brackets in the spares pile along with the handbrake arms that were missing. Ordered some new front discs of the correct size will pick them up in the week, happy to put the smaller brakes on as they will be the same as on the Mevster & they are good enough, although I may now fit the larger ones to it.

If you're paying attention you'll remember I swapped out the brake master cylinder & servo for one from an earlier car, found out that it had a different connector on, so looked at ways of changing it without cutting, found that I could remove the reservoir between the MC's why do manufacturers do that, in the past they would have told you the units are different & try to see you a new one.