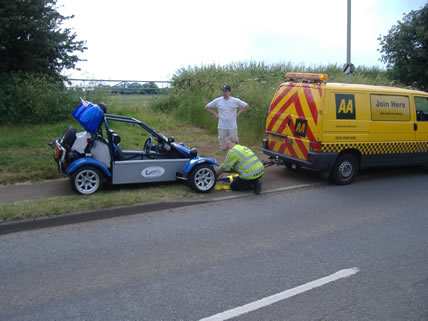 The day before the show I was just doing some small repairs to buggy from the Poland trip. I had to re wire my siren and fix a broken wire for the indicators. All this was easily done and all that was left to do was a bit of polishing and by 7 in the evening I was ready.
I told Simon Brown that I would not even be able to leave for the show until mid day due to wanting to spend some time with the girlfriend. so at 11 o'clock I snuck out and made my way to Tesco to buy the all important supplies of beer and sausages. I met Simon at around 11:30 and we started our way to Newark, we always decide to avoid the motorways as we both enjoy pushing our buggies to the limit through the country lanes and well I can speak for myself here I enjoy driving through the villages that you seem to always avoid on the motorway.
About 45 mins into the trip I seemed to have lost the clutch and so we limped across a roundabout and pulled over but then as if my magic my clutch was back and so I decided just to push on and if needs be just drive without the clutch.
After nearly being caught by a sneaky speed camera and watch Simon crash very heavily over a speed bump (I managed to sneak between them) Simon lost all power and his engine died. We pulled over again and we tried all the usual and we could not get it to start so we decided that this was one for 'The AA' so 30 minutes later we where chatting to the chap and he seemed to think that it was the dizzy cap and that something had come loose so with a small cable tie later we where back on our way until 2 minutes later Simons buggy had stopped again so I decided to fly back and catch the AA man before he went on his way.
After around an hour of trying all sorts the chap realised that it was the carb that was causing the problems and that the needle was jamming closed so we decided that if Simon could get to the show he could probably fix the problem there with a new needle and seat.
So onto the back of the 'AA' A frame and we where on our way to Newark the drive was quite nice actually as SImon was my passenger and so it gave me someone to chat to while we watched his car on back of the truck.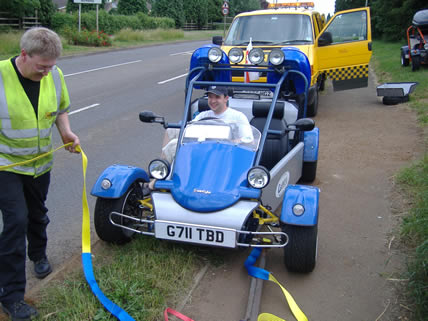 Oh dear Simon sitting in his dead buggy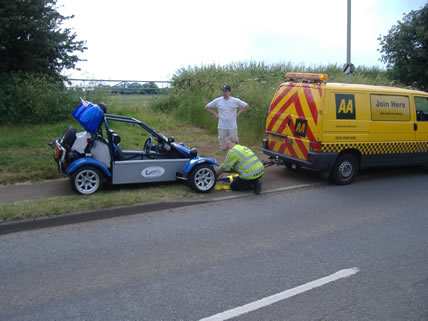 We are nearly ready to go
We managed to get into the show at about 17:30 and without paying which ended up being a result and Dave Smart was there to meet us. We found the rest of the Freestyle formation Drinking team and we started getting the important things organised (most would think pitch your tent first) we cracked open a beer and started to drink and then after about 4 of my favorite australian beer I decided to pitch my tent 3 more beers later and my tent is up.
Jerry and Dave disappeared to get sausages and bacon while myself and the guys from Tiffosi along with Simon started the bbq up and within minutes we where eating sausages… great!!!
We laughed and joked around and decided to go to the main arena to see what the evening entertainment was like after being thrown out for bringing in our own beer and just sitting outside drinking very quick and then we found ourselves a table where we chatted and the beer started flowing.
I don't know how it happens but nearly every kit car show people always start building beer glass towers (plastic) and as usual the Freestyle Formation Drinking Team was the first. We got a bit of grief from the landlord as he wanted his cups back but after a while of arguing with him and watching him run round our table trying to get the empty cups while we all passed them round under the table he gave up and then from then on we had to be first to get our tower to the ceiling.
Well we won the first event which was the single pint glasses from the table and then the second event is always the hardest as you have to go form the floor after a few attempts we had a few kids running round stealing glasses and I was caught stealing them from behind the bar….lol we where well on our way to being the first when disaster struck a young lad ran into our tower and it came tumbling to the floor we had a round of applause but we weren't going to be defeated we made a barrier around the new tower and we where now really serious we had to win. The band that was playing gave up and decided that they would be of better use if they gave a running commentary and yes you guessed it we managed to do it the first tower to the ceiling!!!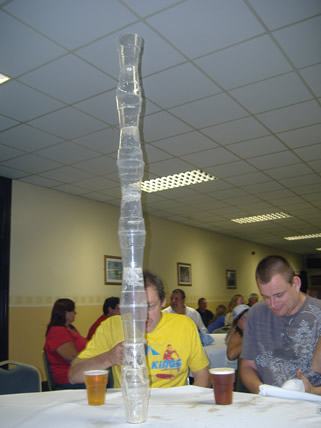 The first to the top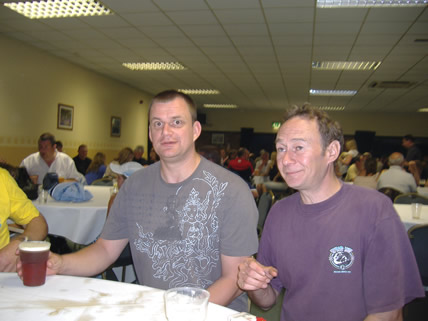 Jerry come on drink up we want your glass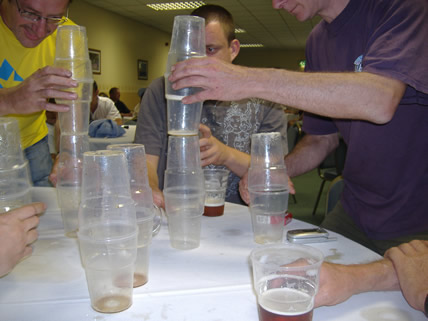 All hands on deck…now that's what I call team work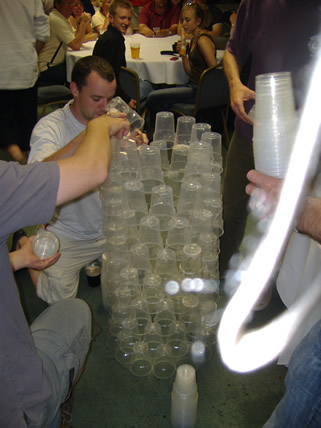 Painstakingly placing cups while the crowd looks on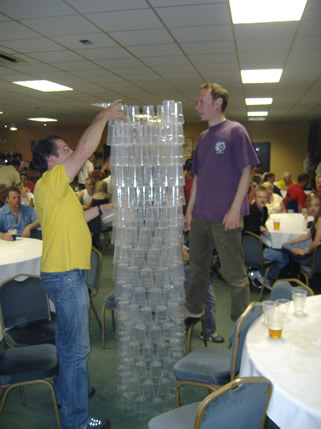 These where the least drunk so got to stand on the chairs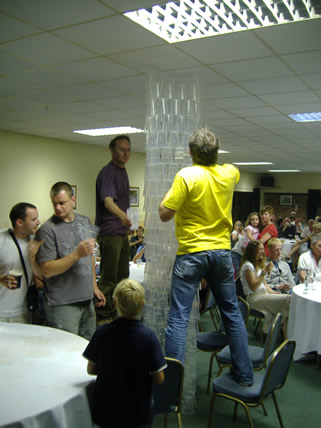 That's it chaps we did it!!!
We got a big round of applause from the audience and a lot of people where taking photos we had won!!!
We all had a good night and when we where eventually kicked out of the arena bar we decided to go back to the camp site and and carry on the party.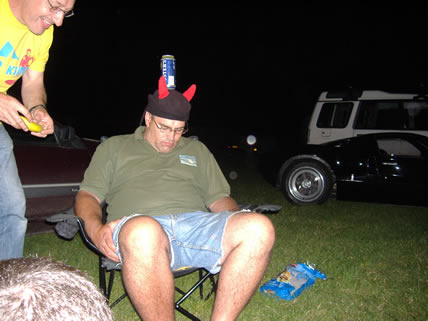 It had been a long day…lol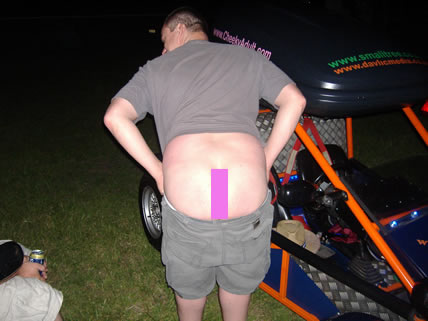 Jerry not a fan of photos
The following day I had a hang over from hell and you could see that most people at the show had one as well. Dave and jerry where with their cars on the stand and me and Simon managed to get there by mid day and we decided to go looking for the bits we needed to fix his carb after about an hour it was all fixed and worked a treat.
The good thing about Newark kit car show and that is Miss Newark she is normally exceptionally pretty and we always manage to get her in a buggy and pose.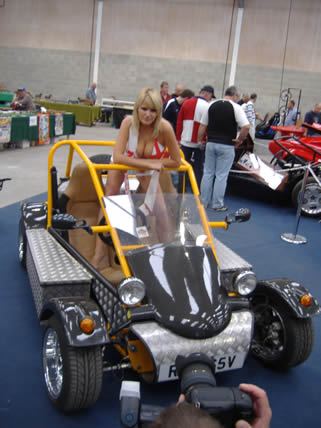 Ah Miss Newark…. very nice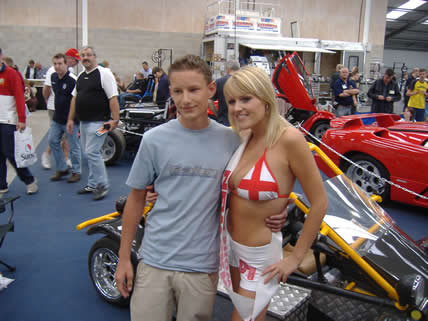 This will give him something to tell his mates at school
At about 16:00 we decided to head back and the buggies drove well through the bends and we really enjoyed the drive.
The show started off a bit of a disappointment but then became one of the best shows of the year.