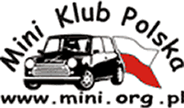 A few weeks before the trip to Poland I had already started to get the buggy ready it needed a fair amount of work including a new steering rack, clutch master and slave cylinders the steering column needed repairing as it was damaged on the way to the Spanish IMM, I also need to get a need indicator stalk.
Saturday 27th May
I had a nice lay in today as I was pretty much ready to go, then the phone rang and Dave Smart was on the phone saying about how car crime is quite a big problem in Poland so I decided that it maybe an idea for me to go out and get some locking wheel nuts which a whizzed off to motor serve for. I started packing my bags and Dave phoned again to see what spares I was bringing and Christ I had completely forgot about this so I decided to phone Motor Serve up again and order dizzy cap plugs and leads this was delivered to the workshop for me thank god.
The weather was really bad on Saturday which was a nightmare as I did not fancy the drive down to Dover any way Craig my passenger phoned to see what sort of time he needed to be at my house for I said ASAP so we can start loading up and so he could shave my head….. (The mullet had to go!!)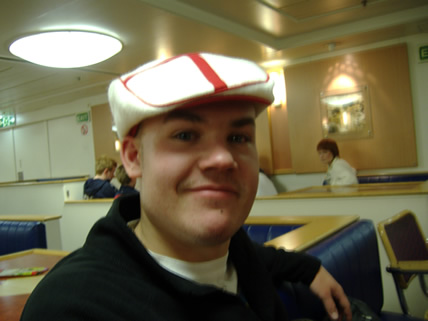 Craig In a stupid hat (Ah yeah we all had stupid hats)
At about 14:00 I received a phone call from my dad asking if we had left yet because the M25 motorway had been closed due to an accident and the M1 was solid…. I started to get a bit stressed as we had 41/2 hour journey to do and Craig was still over and the car still needed to be loaded. Craig got to mine about an hour later and my head was then very quickly shaved and I jumped in the shower while Craig loaded the car.
15:00 we are off and headed across country trying to avoid all major roads and it was raining cats and dogs so this made driving a lot harder. I had to push the car and my driving skills to the limit as we need to be at the docks for 19:30 at the latest we are making good progress and the disaster strikes one of the roads we needed was solid and so we are stuck in traffic for ages and I am getting frustrated and by now we are soaked.
We made it to Dover at 18:50, 10 minutes before we where meant to meet Dave and Glen in the BP petrol station. We pulled in and I phone Dave he said he was over 50 miles away and I was told to try and hold the ferry up if I can.
So I decided to go and check in we where yet again in another queue this did not matter as it was for the ferry, we where trying to think of ways in which we could hold up the ferry but no sooner had we got in the queue we saw Dave and Glen pull so there was a sigh of relief and we continued to check in…. Luckily the ferry had been delayed by quite a long time as the weather was bad and we should have missed but we where very lucky.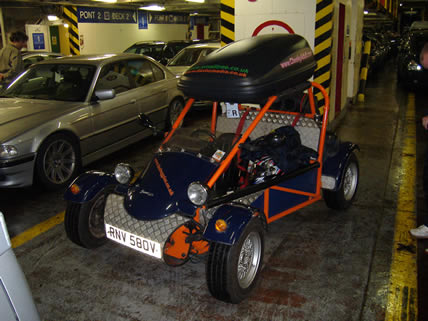 Danny's Buggy on the ferry
Sunday 28th May
I was up at 06:30 just to check the car over before left because it started making strange noises but luckily I found that a few of the bolts on the hubs had worked their way loose so I tightened them up and everything else was ok.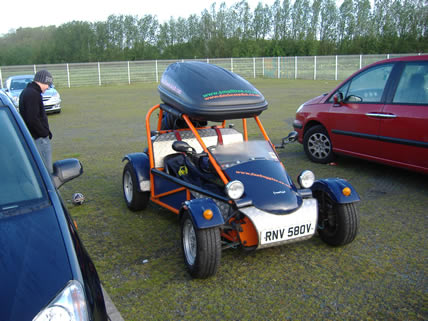 All repaired and Ok parked in the hotel car park
While Craig and I was waiting for Dave and Glen to get up we went outside and had a kick about in the car park for about 30 mins and we didn't actually hit too many cars which was a bonus.
We decided that we where going to use the toll roads to get to Paris as this would be the quickest route as we all wanted to do the sites in Paris so that was a good drive but I was getting cramps and had to drop back as I stretched and massaged my ankle I was thinking this could be a long few weeks.
When we made it to Paris as you can imagine driving in Paris is an experience and I actually really enjoy doing it but still you need your wits about you, I tend just to pull out and hope that people see that both buggies are together and lets us through and that strategy worked quite well some times you need to use hand signals to get peoples attention but we did ok.
We stopped out side the Arc d' triumph to get some photos of the buggies Dave ran out as he usually does into god knows how many lanes of traffic and takes the photos as he is running back to the cars narrowing missing massive amounts of French cars a copper on a motorcycle pulls up and said something so we decided maybe he didn't like the idea that we had parked.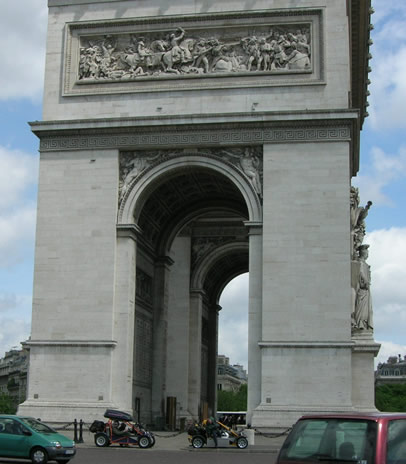 This was taken moments before the French police told us to go
We drove around all the sites in Paris taking photos and generally battling our way through the traffic… the funniest moments was around the Eiffel tower where Dave had a very obscure horn and was making people laugh smile and very funnily jump out of their skin was very good to watch… at this point my horn was flooded and only worked occasionally.
Glen forgot that he had indicators and I began to think that he was late braking deliberately god knows how we made some of the turnings it was heart in mouth stuff but we made it without too much trouble
We got to our hotel unpacked and changed into clean clothes and headed back in to Paris to sample some of their local beverages and to see the sites… the sun was shining and it was beautiful day.
We headed to the nearest bar and supped some very cold very nice wet local beer it was perfect we met an Arab looking chap and we got chatting to him and he showed us a game to play which was called 'GOOFOO' anybody that burped or passed wind had to put their thumb on their forward and say 'GOOFOO' the last person to say it got a punch this was highly amusing and as the beer started to flow the punches got harder and was so funny we got some funny looks from the locals but who cares??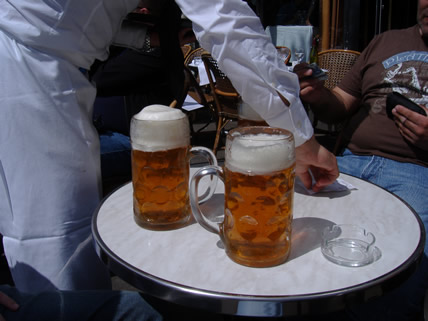 BEER!!!
Its a Bit Gassy This!!!
We went on to a bus tour where you can 'Hop on Hop off' and we got off at the Moulin rouge, this is where Dave played a nasty trick on another tourist. He offered to take a photo of a couple and then when she gave him the camera he pretended to run away and the girl then jumped on him was very funny and had us all in stitches.
We where then interviewed out side the Moulin Rouge for a radio station where we had to sing the 'Can-Can' was very funny too.
Later on in the evening we decided to go up the Eiffel Tower and this was good we queued for ages and we finally made it to the top was very spectacular the site was sooo good. We started to make our way down the stairs as the lift was full but Craig myself and Glen decided to start jumping down the stairs a flight at a time and then Craig thought it maybe an idea to jump and try and grab a steel girder swing and land, but as you can imagine it failed miserably and landed him in hospital for a few hours… it turned out that he only had severe bruising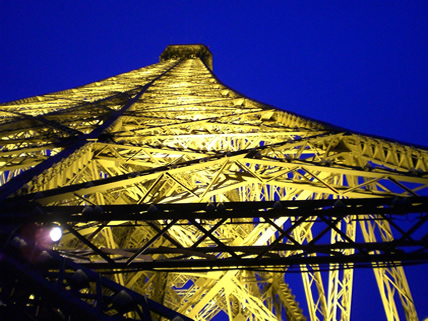 Ah Very Pretty Lights
Dave and Glen carried on drinking and did not get back in till about 03:30 and so the following morning we did not get up till quite late.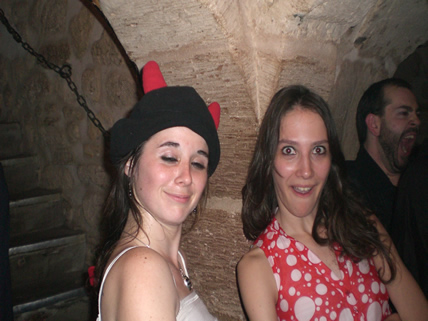 Some Nice Girls That Dave and Glenn met
Monday 29th May
After the previous night in hospital Craig is feeling ill with all sorts of muscle relaxation pills and pain killers he has already been sick in the car park, breakfast went down well but came up as easy. We had to find a chemist today to pick up some more medicine and bits for craig.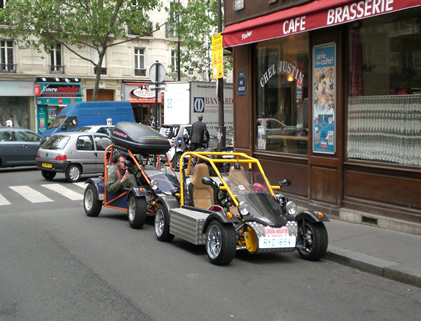 Dave and Craig go in and I sit struggling with a hangover
Today we spent a lot of time on the motorway toll road was not that fun to be honest but we need to make progress. Later on in the day we decided to go cross country as we all were struggling to stay awake… the roads were amazing you wouldn't believe some of the over taking maneuvers we saw and we did some where plain stupid but we did surely truly genius ones that any Schumacher would be proud of.
It started to rain again and my god I actually thought I was going to drown the roads suddenly became very dangerous, I was on the outside lane at one point and then a split seconds later I am fighting to get off the hard shoulder the car was aquaplaning all over the place I decided to slow the pace down as my visor was fogging up and with it open the rain was stinging my face. We where soaked right through it was so cold I have never been so cold.
We had to stop at a motorcycle supplies shop to buy some extra clothing as we where all struggling.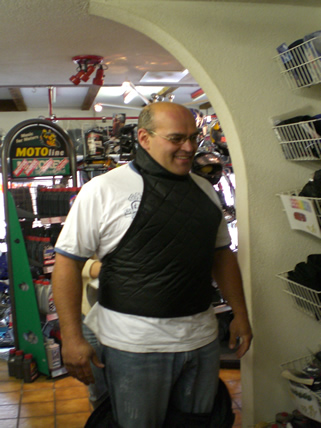 Ah that will do the trick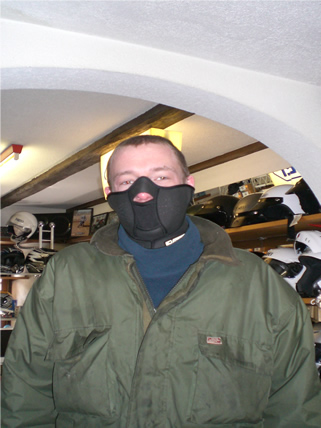 MMMM Looking good???
We eventually got to Belfort but we managed to get to the wrong hotel …..Bugger!! So we had to find the other hotel… I decided that Dave could drive my car as I was so cold and exhausted.
We went into town for dinner and decided that it would very amusing to go into a sex shop and just have look was quite amusing… but the best bit was sinking a few beers followed by pizza and wine the day seem to be just perfect.
Tuesday 30th
We woke up late today Dave had already checked the cars for all the fluids, I had a killer of a soar throat so I reached for my mouthwash and this cured it…. Amazing stuff!!
I was having problems with tick over and because Craig was driving he struggled to keep the buggy running so at the first petrol station Dave had a fiddle and increased the tick over speed and this cured that problem.
This is one of the first times Craig had driven my buggy so I was very nervous but he seemed to enjoy himself and treated the buggy fairly reasonably I began to relax… well nearly anyway.
Dave managed to snap a fan belt we have no idea how it happened but he did it but it was ok because he though he had packed a spare one but could he find it????…..NO!! I didn't pack one either which is strange for me because I had most of everything in the box on my buggy. So we had to park in a petrol station and try all the local shops to see if we could get one. After lots of driving we managed to find one in a sort of motor spares shop a bit like MotorServe they had one in stock as well, but the next problem was the fact that we had no means of paying as we didn't have local currency and the belt was not enough to go on credit card… the chap behind the counter decided that he could lose the fan belt and we owed him nothing which was a result… THANK YOU!!!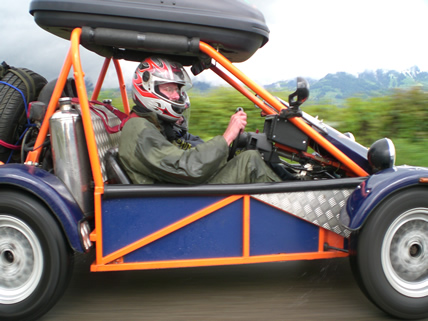 Car 2 car shots are good fun I was soaked in this shot
When we got back to the service station we fitted the belt and I decide that I would check my Dash pot to see if it had any oil in and low and behold it was empty so I filled it up and suddenly the tick over speed increased and the car was running fine again so that was good.
It started to rain so hard and we all were struggling so we decided to stop in a random town and try and get a hotel we stopped at a service station to ask for directions and advice and we happened to ask the village idiot who also happened to be slaughtered and we couldn't get rid of him "Its best if you go that away" is all he would say was very funny.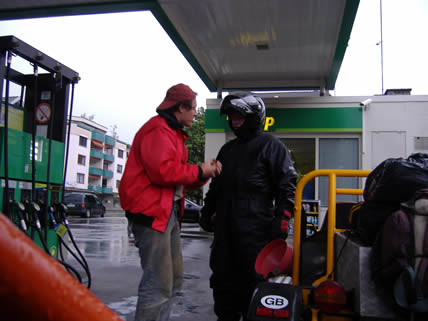 We have found the towns Drunk!!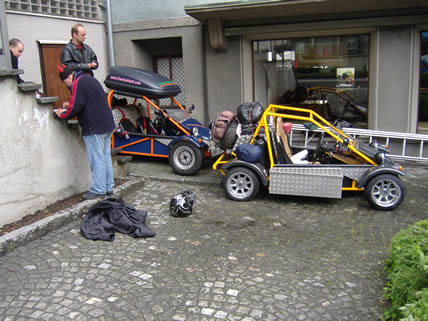 Nice place to park
Anyway we found a hotel and we managed to park our buggies nicely and relatively securely so I was happy. We went upstairs got changed and found ourselves a nice quiet restaurant bar and we had dinner we ate all traditional Austrian food, mine was nasty I really did not like it but still you don't know until you try it. After dinner we went and sat in the bar and started playing stupid games like Stone Paper Scissors but with a twist…. What you do is the winner grabs a spoon and tries to smack the loser over the head with it, but the loser tries to grab a menu in our case and get it on their head before they get smacked, along with that game and the "GooFoo" game and plenty of beer you can imagine the trouble we where causing in the bar, in fact we should have been thrown out after the second glass got broken but the bar staff just smiled and we carried on.
Click here to view our stone Paper Scissors game video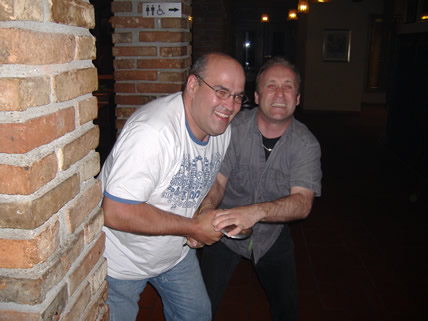 Now Now children no fighting
Wednesday 31st May
We woke up to a cold start; Craig drove to start with as I was still struggling from the night before not only with a hang over but with bruises and all sorts.
We are heading for Salzburg today the home of Mozart and we where going right through the mountains and at first the weather was good but the higher we got visibility became quite bad and my visor was frosting up and the snow starting to get very deep but Craig was still enjoying himself we stopped and had a snowball fight and made some yellow snow… when you gotta go.
Its nice and fresh but cold….so cold!!
It was very strange because we went through a tunnel and on the way in the mountain was green and we got to the other side and it was white everywhere was white.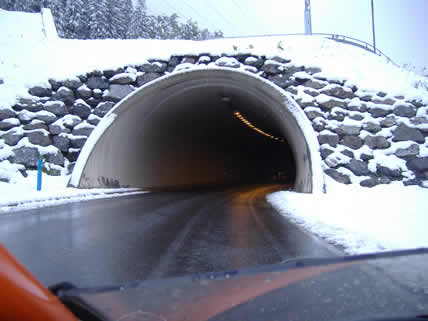 Snow on the way up the mountain these tunnels were weird!!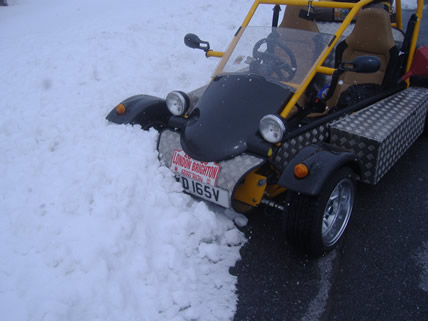 Snow in May???
Watch a video clip of Craig driving through the mountains Click Here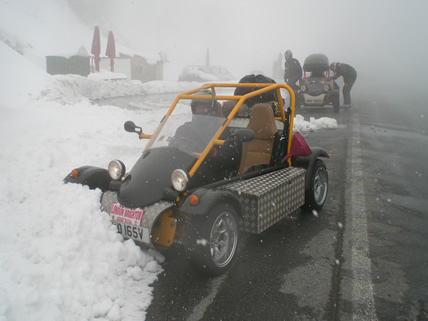 It was very cold…. I may have mentioned that!!
I decided that I was well enough to drive and it was good because the snow had now pretty much gone so I was giving some real boot through the hairpins in the mountains and Dave was driving and we managed to annoy a chap in a 4×4 by pulling an amazing overtaking maneuver on him and then because we ran out of road we had to well persuade him to let us back in before we got squashed by an oncoming lorry (We pretty much forced our way past). This as you can imagine really wound him up so he needed to get past and to be fair he did get past and nearly killed himself then we over took and it started to get a bit stupid and I was beginning to think that it was going to end in a nasty way. We where doing stupid speeds through the bends and I only just got round one bend by the skin of my teeth I had 4 wheel drift through this hairpin and there was no where to allow for an error luckily I scraped through and a few moments later we stopped for our lunch.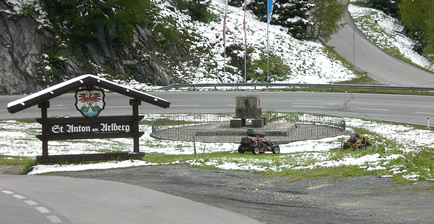 Going cross country in the buggies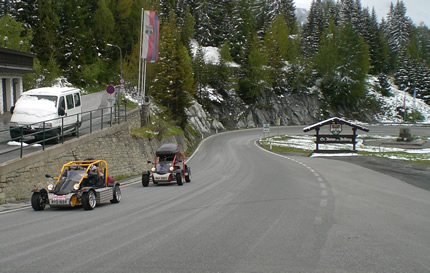 Looking Good!!!
I had a rotting gut from the night before and well as you can imagine I was in quite a rush to empty the previous nights contents and well I found the gents but could not for the life of me see the proper toilets so I decided to get to the ladies and it was only in the nick of time… I managed to empty the ladies quite quick but hey, I am a tourist.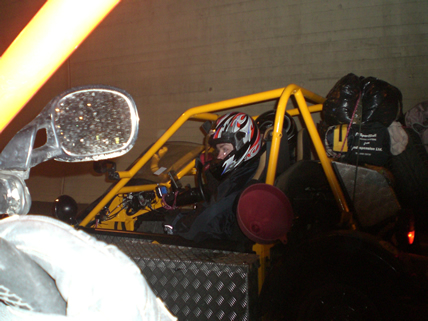 Car 2 car shots in the tunnels
On the other side of the mountain there was not one bit of snow which was very peculiar.
Going through some tunnels your glasses would fog up visors wind deflectors everything… had a few near misses with not being able to see.
We made it to Salzburg the home of Mozart we walked around and saw all the sights which was quite nice some really nice architecture and some interesting pieces of art not quite sure if I see the point of an upside down helicopter but still.
We found a nice Irish bar with a live band which was really good and we watch Dave try his luck with the local ladies, three times??? Four times?? The Devil hat is a real puller.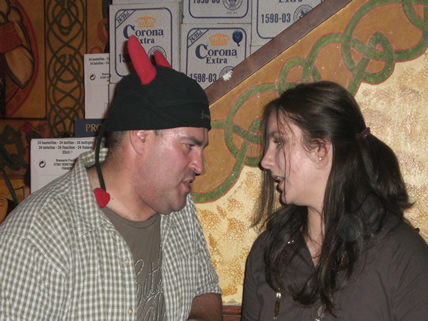 Dave does it again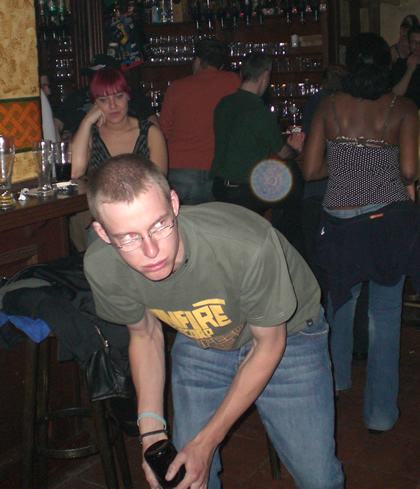 I use to be able to do a good impression of Tom Cruise in the film cocktail…. maybe not tonight
Thursday June 1st
Well, today did not start too well, Dave's car was vandalized over night not too badly but still was a real pain I was still not sure why my car was not touched even though mine was parked next to his.
We where heading for Vienna today….. If only I could find my Battery cut off key!!!! I went to the shop just up the car park from where the cars where parked and I had the key in my hand, I paid for the drink and a bit of food the cashier gave me the change and I still had the key but in the distance of about 25meters I had lost the key we searched high and low in fact we searched all over the place for it but no luck, I could see Dave getting stressed so he went off to see if he could find another one in town which myself, Craig and Glen searched again and actually managed to come up with a good bodge and actually we managed to fix the switch problem and about 3 hours later we managed to get on our way.
Dave's exhaust mountings today broke off so with the help of a few cable ties we managed to limp to Vienna and when we checked in Dave went off to get someone to weld the exhaust up… meanwhile Craig Glen and myself went site seeing which was quite nice we sat in a few bars and we made the mistake of going in one with the weights and measures people in with the police doing a check so it took what seemed like an age to get a drink but still it was cold and wet (the beer) so I didn't care!!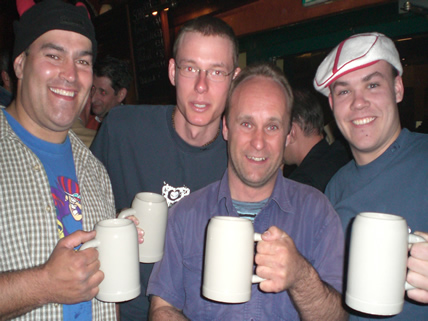 Ah… The Freestyle formation Drinking team
Friday June 2nd
We where up early today and we where heading for the International Mini Meet at last we where nearly at our destination, we decided to use the motorway today just so we can get to the show.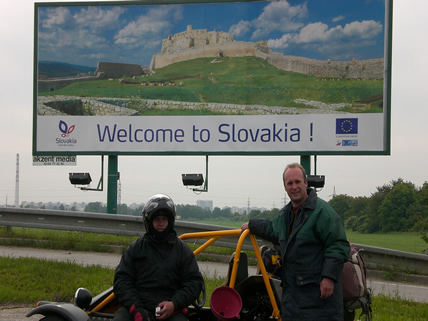 Say Cheese!!!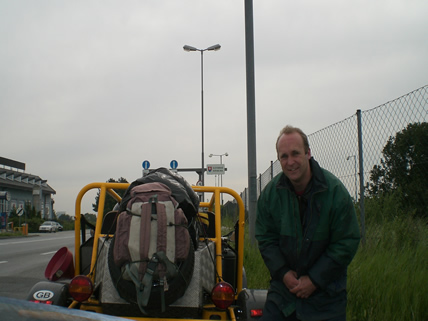 Are we cold Glenn?? Or do we need a wee wee??
On the motorway we where following Dave and I started to notice the occasional ploom of smoke and though hmm that's strange then as time went on the ploom became a little more than a ploom and decided maybe I should let him know so I signaled for him to pull over. After a few moments we realized what the problem was, Dave had forgotten to put the oil filler cap on …. OOOPS!!
Any way we drove on and a few miles down the road we had to stop again and this time it was because Dave's car was overheating we checked the water and there was not much in so we topped it up and then we drove on, then a few miles later we where stopped on the side of the motorway again due to over heating again and then Dave suddenly began to realize the full extent of the problem the head gasket had gone and the water was being pushed out of the radiator.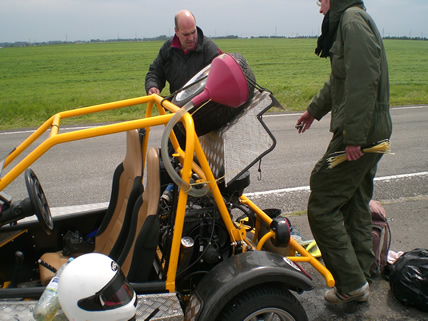 Ingenious!! Worked a treat!!
To see footage of these 'Get Me Home Fix' in action Click Here
So we are parked on a motorway on the day that we are meant to be at the show scratching our heads, but then suddenly Dave and Glenn had an ingenious idea which the saw on scrap heap challenge and that was to strap the funnel of death to the car and push the hose into the top of the radiator and this will keep the water in and let the air come out… with this on the car was ready to roll and it worked in fact it worked very well.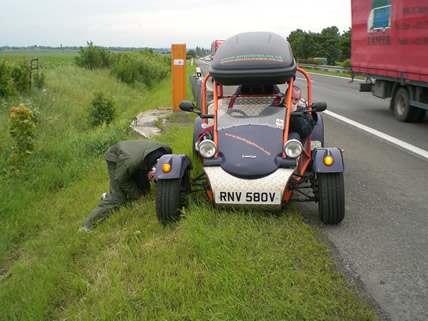 Just after my little stumble! Craig would you like a tissue??
So we made it in to Poland the roads where shockingly bad and the buggies where crashing all over the place it was painful the noise they made as you hit another unavoidable pot hole.
We where now just looking for Podlesice which is where the IMM was, so we typed it in the GPS and off we went yay we found Podlesice but where are all the mini's???? We drove round for hours looking but we couldn't find them or in fact anybody. What made matters worst was that Dave's Mobile had now packed up and so we had no way of contacting anybody we knew at the show and by now it was getting dark. We are all at our wits end when Dave decided to phone our mate Jerry who then phones a friend who managed to get a number for us and result we managed to get hold of them at the show.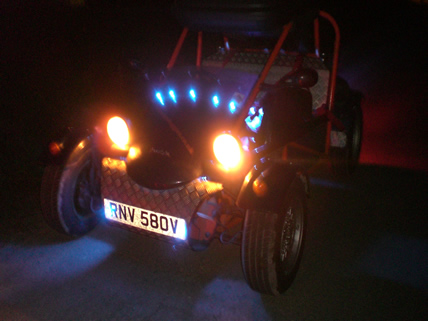 It was dark and a camera was available how could I resist??
Right, it would appear that there are two Podlesice in Poland which is useful and we had been at the wrong one, but no probs we now knew where we were going and about half an hour later we where on camp and well what a reception. We where given a really potent shot at the gates by the organizer then expectant to drive to our campsite and pitch a tent and oh yeah did I mention it was raining???
About an hour later we are all sat in a marquee with beer in one hand and lots of food in the other and we just drank till quite late was soo good Thanks to everybody that helped us that night setting tents up and getting us beer.
Saturday 3rd June
Well, my head was sore my throat felt like I hand been drinking sand and breakfast looked well, lets put it this way I just had the bread.
Glenn pulled a bird…. It was actually a parrot but still he was happy.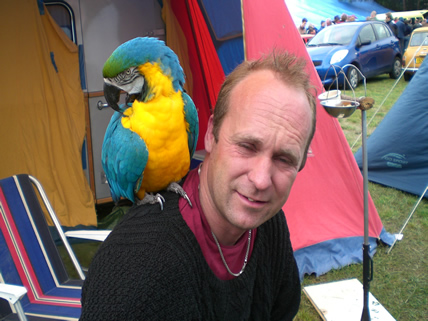 Really Made Glenns Day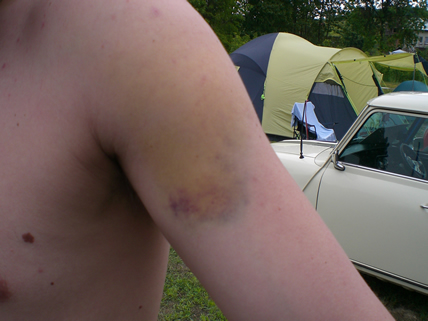 Craig's arm still looks very soar after his run in with the tower
We went to Auschwitz today the journey there was very tricky due to the pot holes and the Polish drivers oh yeah and it was also raining quite heavily. Auschwitz was very interesting yet it was very disturbing… I would definitely go back again.
We headed back to the IMM and we sat down for dinner….. Still have no idea what it was we ate but…. Down the hatch it goes!!
There was entertainment on in the tent tonight so off to the tent we headed I got kissed by a very pretty Polish girl not sure why or even who she was it happened so quickly but still. We met up with the Black Country Mini club and we sank a few more beers and then I think we headed for our tent well we tried to… the polish beer does all sorts and well it took a while to get to the tent but we made it.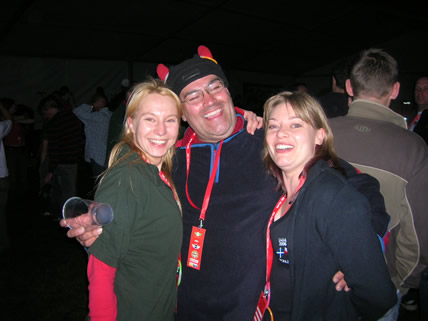 Just don't know how he does it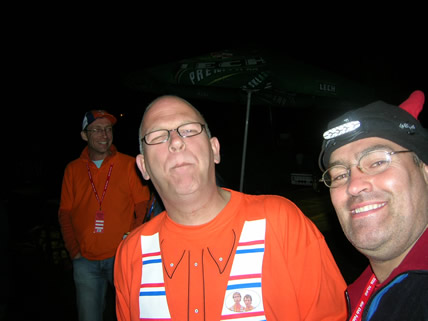 What is he about to say??
Sunday 4th June
I woke up at 09:30 and staggered to go to the toilet and decided that it was still too early and that I really needed to sleep the hangover off so I crawled back into our tent and slept till 11:30
Dave started to fix his head gasket in the marquee so he did not get wet. I decided to change the tie bar bushes and wire in my siren a little bit better. Both cars are now ready for the journey back.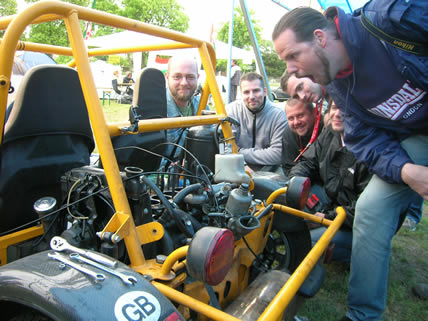 Dave doing his Head gasket and a very shocked onlooker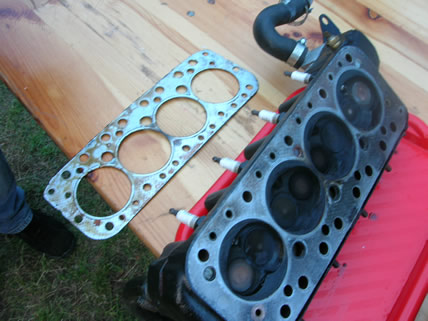 Off with your head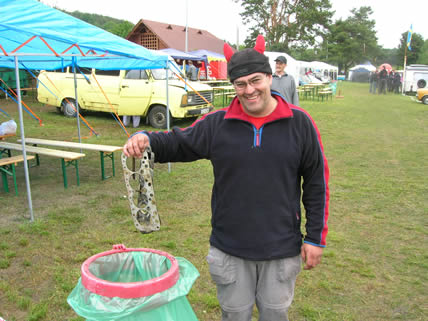 And just throw it away!!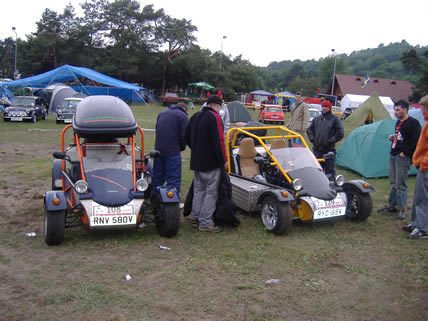 Just getting ready to leave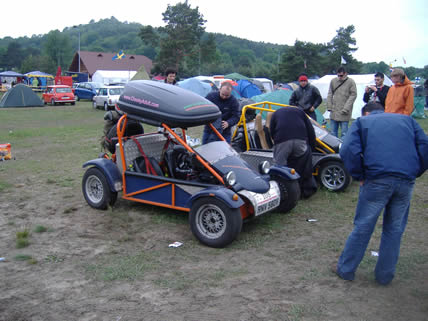 We are nearly ready
We all where debating whether we should stay another night at the IMM or should we start making progress… After a few discussions we all decided that it would be best to start making progress back.
We where driving through a town call Prudnik and we saw so many girls so Dave pulled over in a petrol station and asked if me and Craig where happy staying here tonight we both agreed and a few moments later we were chatting to a Polish girl called veronica she was very pretty and her and her boyfriend and a few of his friend showed us where we could stay and even booked the hotel for us and we asked them if they would meet us later for a drink and they said that there was a big free concert in the local park and that we where more than welcome to join them they even came to the hotel to pick us up.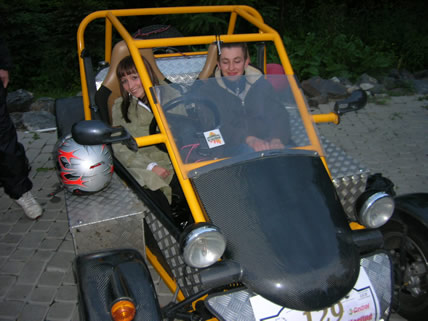 Veronica And her boyfriend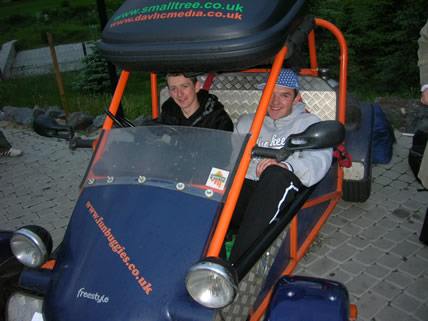 A couple of Veronica's Friends
Myself and Dave decided to give veronica and her friends a quick spin in the buggies it made there days.
That evening we drank ate and listened to good music we even got told off by the police for drinking in the street but the beer was so cheap that we couldn't help but drink it. The only problem we had was Craig, he decided that he liked veronica and that he was going to spend the night flirting and chatting her up which is all well and good but her boyfriend was there and he was not happy at all.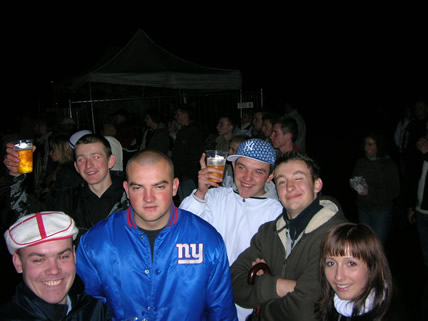 After a few beers with some of the locals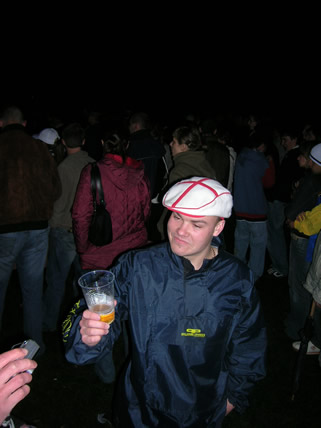 Ah Beer!! £0.60p a pint??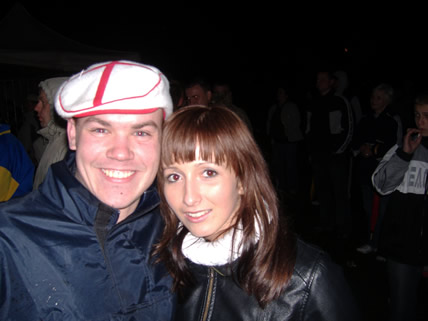 Craig she has a boyfriend!!
Monday 5th June
Today we where heading for Prague and we went via the mountains as we love driving through them, we where pushing hard today and the buggies seemed to love it the harder you pushed, four wheel drifting through the hairpins is just a truly amazing feeling, but it tires you out a great deal so I decided to calm down a bit and try and save myself.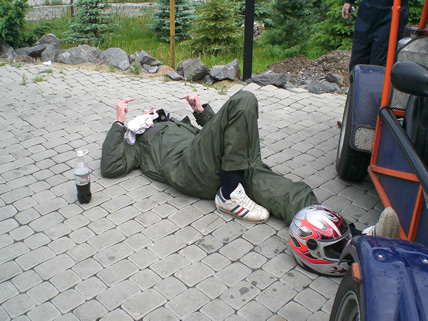 The hangover from hell
When we arrived in Prague we found a great hostel with a great bit of parking for the buggies in fact I would say that it was the most secure we have had on the whole trip.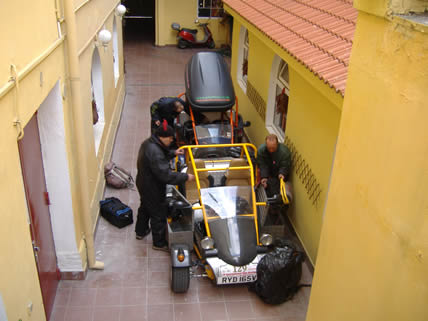 Great Parking Places
Now Prague is a nice place but there where a few things that wound us up, which where as follows, the bad signing on public transport the first tram we used we had no idea whether you had to pay or what. The other thing was that there where so many Nigerians trying to get you in to strip clubs and brothels and to be honest we got harassed and it got to the point that I wanted to knock one out but I kept my cool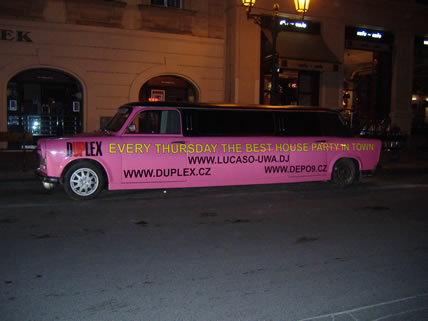 A Stretched Trabant
But then the good bits where that the beer was cheap and the people where nice and the food was great.
I would like to thank the Irish bar we visited that had a big poster that explained the rules in Prague and how to use the trams and how that pick pockets are a big problem and what to look out for ect… it was a real use.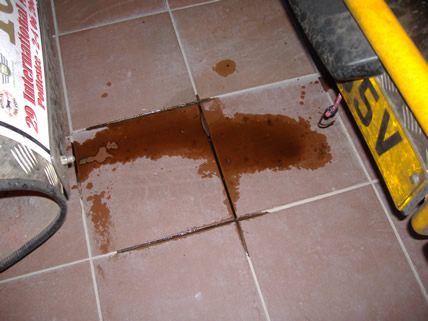 Gear box oil seal needs replacing me thinks
Tuesday 5th June
Once again we where up at the crack of dawn which we really did not want to do but Dave insisted that we went and saw as much of Prague as we can which was true we should make the most of it.
We had breakfast in one of the many squares which was nice but had a shock when the bill came was very expensive but still it was nice.
We went a long walking tour of the town today which was interesting but I really could not be bothered to walk, we made it back to the hostel and slept for an hour which was the nicest sleep I have ever had.
Dave went to an organ music concert where Glenn, Craig and myself decided to sit out and have a few pints… it was nice.
We met up with the Black Country Mini Club in a bar called Zanzibar which had some great bar staff that where really quite good at flairing and lots of other bar tricks. Myself and Dave where falling asleep at the table we where sat at so we decided to call it a night and we left for the hostel.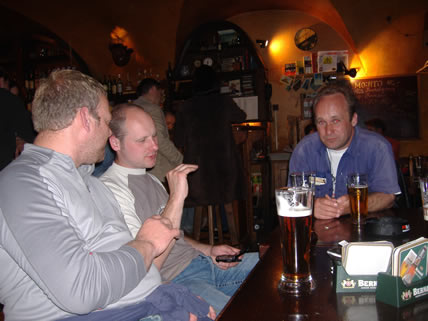 Glenn chatting to the Black Country Mini Club
Wednesday 6th June
We left Prague today we where heading for Frankfurt we got stopped by the police just to let Dave know that he has a flat front tyre so luckily I had brought a jack and a wheel brace with me so the wheel change was a quick one.
I noticed that my wheel arch had a bit of movement so I stopped and notice the bolt that holds the caliper to the hub was lose and when I tried tightening it was stripped so with help from Glenn we managed to get it started and tight… cheers Glenn.
But after a few miles I noticed that the problem was not cured and it was getting worst, I noticed that Dave was indicating to go into a services and so obviously we followed and I jumped out and had a look at the wheel arch bracket and it had broken and Dave's had broken as well it was even on the same side of the car.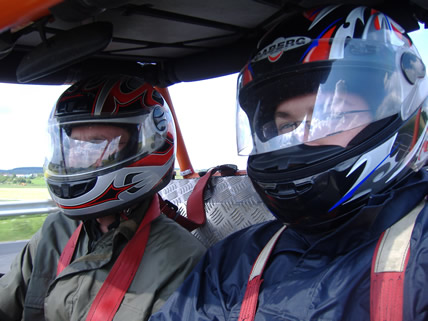 Now that's what I call an in car shot
We managed to find a garage that would weld it up for us and when they had finished we realized that we did not have any currency and so we decided to give them the remainder of our beer which they where very grateful of, which was lucky.
We made it to Germany by mid afternoon and we ate lunch in a pub that was very weird, it was cluttered and there was not any space anywhere for anything else the food was nice and the service was spot on.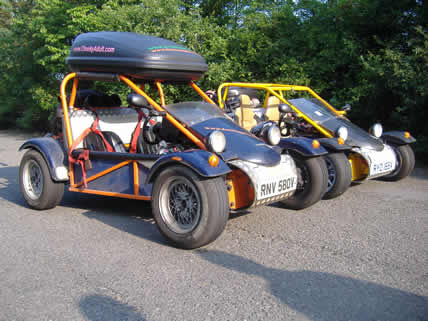 Need to stretch our legs look how dirty they are
We made it to Frankfurt and we met up with Andy and Emma and their parents, we also went to pub that Craig's friend owns which was quite cool we all were tired and Dave was falling asleep in the pub so we started to head back to hotel.
Thursday 7th June
We were up at 9 today, and the buggies were running very hot so we had to stop once or twice. We went to Nurburgring and we tried to get on the circuit but unfortunately there was motorbike racing on but still we went around the museum and had a play on the simulators.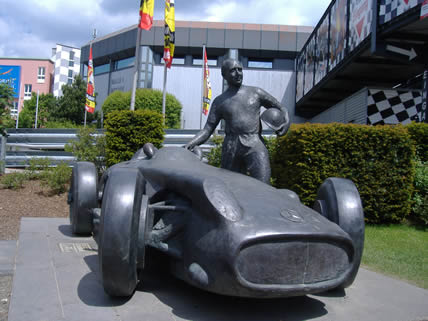 The Nurburgring great museum
We went on one simulator and the warnings where in German, and Dave asked what it said and before I could say hold on tight, Dave was thrown into the corner of the shuttle and struggled to get up but he certainly held on from then on.
We made it to Brussels today and we met up with Andy and Emma and we just did the usual of go into town and sink a few pints before we staggered back to our hotel.
Friday 8th June
We got up late today and we headed to the Atomium which was very nice in fact I would recommend it to anybody who goes to Belgium. The lunch in the restaurant was very expensive and was pretty poor actually but that's the usual in these types of places.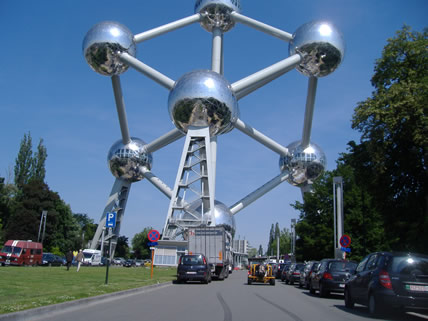 The Atomium very impressive
The view from one of the balls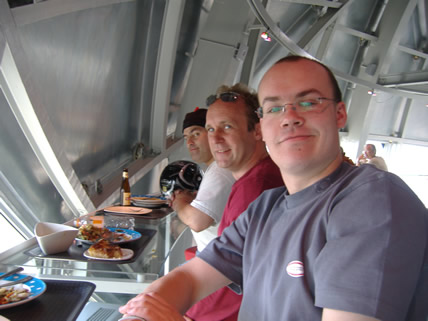 After we had eaten cold soup and robbed of our money
When we left the Atomium we played football on the green outside which was cool then we got back to our cars and drove round Brussels we stopped for waffles and beer.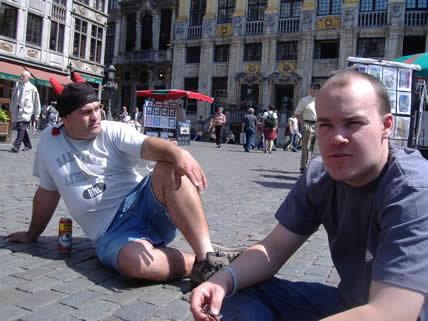 Waffles and beer in the sun watching the world go by, perfect!!
We're heading for Calais now and Dave was asleep and Glenn was driving…. Glenn, now is very competitive, he races Locost's (lotus 7 type kit cars) and well any chance to race and he is there.
We where so close to home now that I really did not care if the buggy broke down so I started giving the car some stick on the motorways and coming along side Glenn and try and get him to race and we would just roar past and after a while we stopped we need fuel I think and I asked him if he was trying and he said that his foot was hard on the floor, Now my car and Dave's car are running the same engines but mine was producing so much more power, I couldn't work it out but we would literally catch Dave's Car up take a few photos and then accelerate past…. Good feeling though and we took some great photos.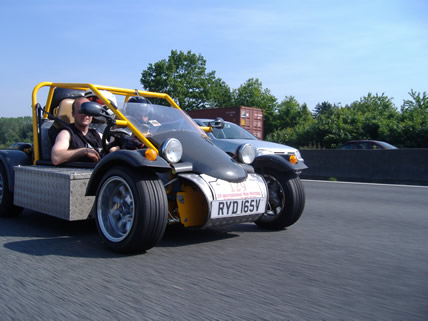 The sun is shining and the roads where great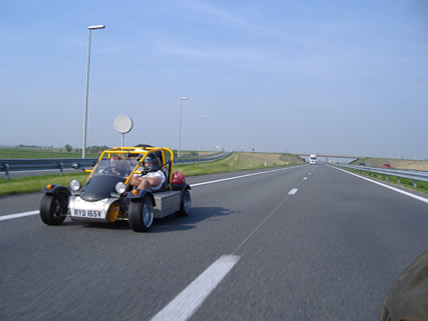 Straight roads with little traffic on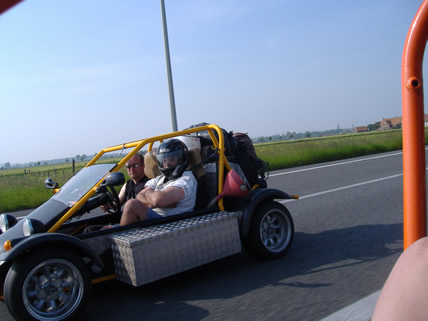 We are nearly at Calaise now
We where in Calais and see as it was the last night I was up for drink some beer (for a change) we found a cool little Indy bar that had Hoegaarden and that was it me and Dave where made we drank and chatted to the locals and drank a bit more and chatted and that was that the night came to an end and we headed back to the hotel.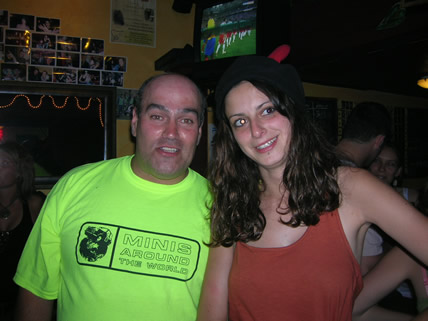 Everytime he goes out…lol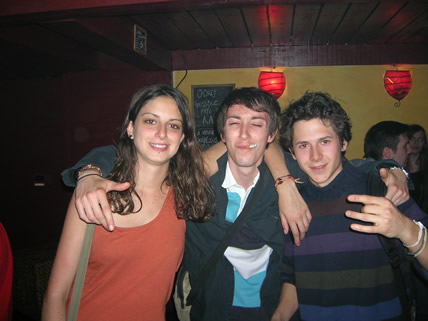 Student bars are great
Saturday 9th June
We where up I had a hangover from hell and we where heading to the shops today to buy some beer and some gifts for relatives ect and we got on the ferry we sorted out all the photos… 2000 photos where taken.
We got off the ferry and said our good byes and me and Craig headed north up the motorway where I was giving it too much welly for maybe a little too long as I cooked it and had to slow down and use the hard shoulder for a while, while the engine was getting some water.
Around three o'clock we where in my kitchen chatting to my mother and sister…. Truly great trip although very wet!!
I would like to thank Dave for organising and planning the route and basically doing what he does best and that's chat to the locals.
I am looking forward to next years IMM and I hope that a few more buggies will be there.

www.MuddyBuggies.com