The Wales trip is now becoming a bit of a MuddyBuggies tradition, before this trip in 2010, Steve Alan and Simon did a tour of Wales. I was not able to make this trip as I was actually travelling around Australia at the time. However, the Wales trip in 2010 myself and my girlfriend Jane made it.
We met at the garden centre in Lichfield and we had tea and coffee while we came acquainted with the others. I made a comment about Simon's brakes, as previously I rammed him on the way to another show, the comment went along the lines of "I've not seen your brake lights at all today". The trouble is Simon had actually been using his brakes extra knowing that of course I was following.
After our quick breakfast in the garden centre we headed back to the buggies to discuss a plan of action, while we are doing this Simon was checking his brakes and soon discovered his brake lights were not actually working and seeing as I we will going to be following him for most of the trip we figured it is quite important 🙂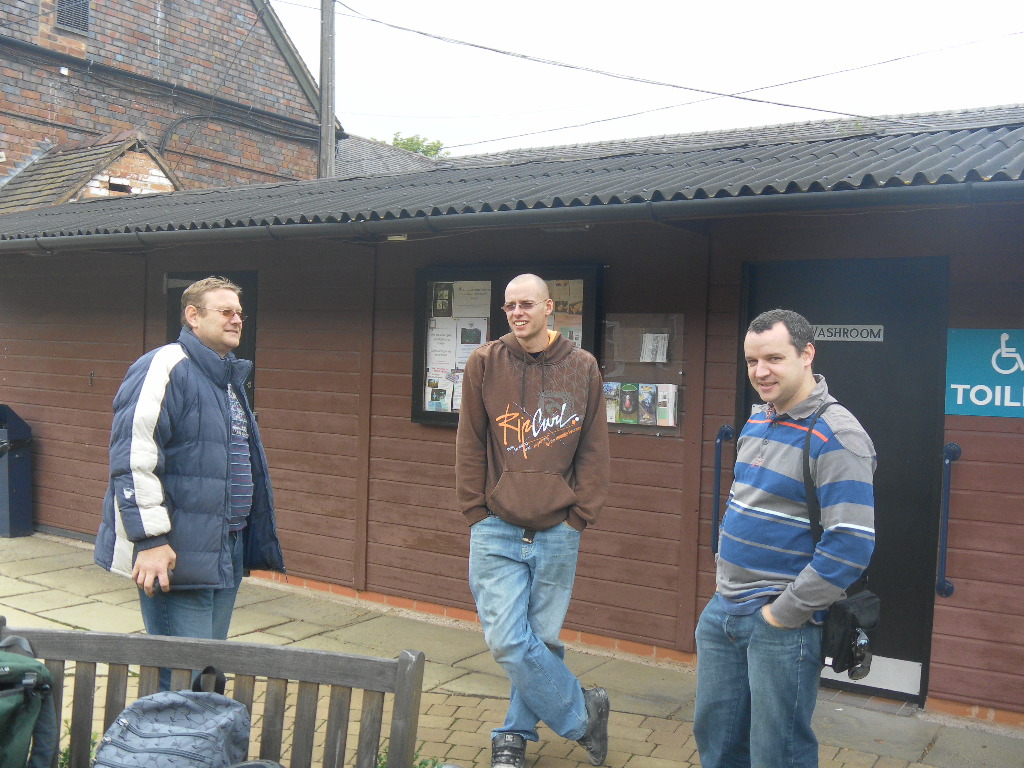 So we decided to make a point of trying to a get brake light switch as quickly as possible so we could fix the problem and obviously carried on with with the trip. As we left the garden centre and at the first roundabout every single buggy went in a different direction, this was quite funny seeing as were meant to be following Simon. So myself, Alan, and Steve pulled into a layby and waited for Simon to catch us up. Somehow Simon had managed to get 6 miles away and had no idea where we were. After a while, well about 45 min later Simon finally turned up.
So now we are following Alan and Simon is behind me, we go round the next roundabout and Simon disappears again. This time he lost all his gears and had to coast off the roundabout and abandon his buggy. After we all have done a U-turn and found Simon, he had already diagnosed the problem and that was the roll pin have fallen out of his gear linkage, this was an easy fix and was fixed in minutes with a bit of electrical tape 🙂
We could finally try and find a motor factors so that we could fix Simon's brake light switch. We found a local Motor factors and although they did not have the right switch but westill managed to put one on to Simon's car but this time it was wired differently. It was actually on the accelerator pedal, so when Simon took his foot off the accelerator pedal the brake lights came on. This was fantastic, especially as Simon's engine is high compression and he really does not need to use the brakes anyway as engine braking is more than adequate to slow down. However, we forgot that every time Simon changed gear we saw his brake lights…. took some getting use to though 🙂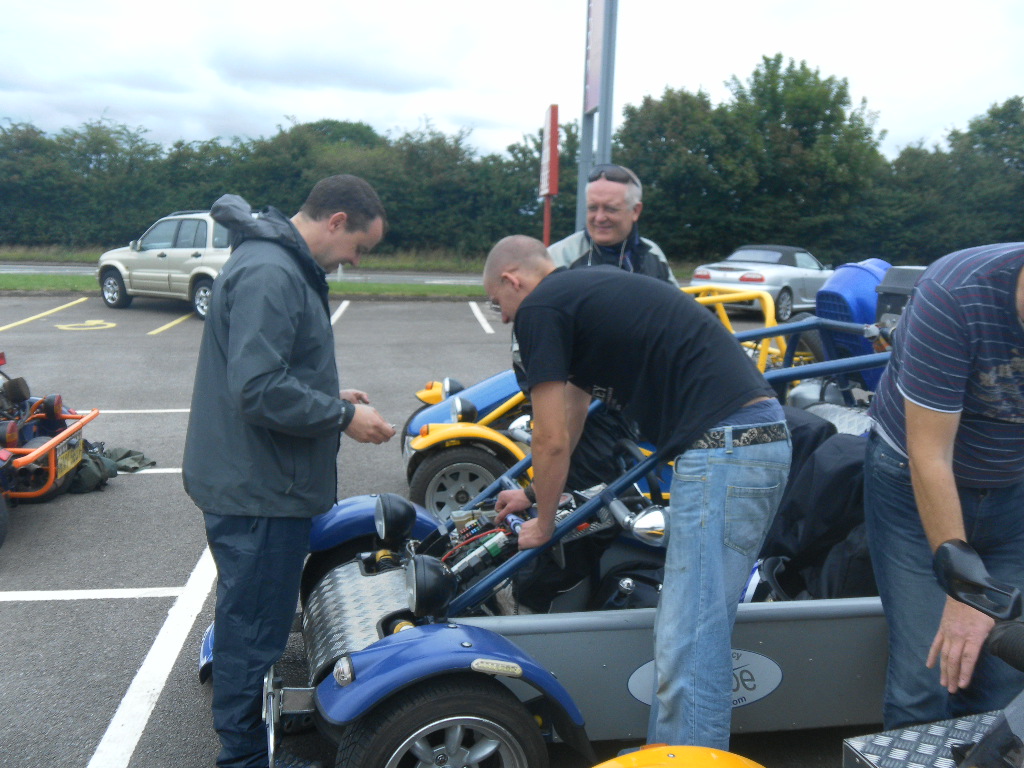 The first day was relatively uneventful. We headed to the campsite in Wales pitched up and went for a pint. The food was good. The beer was wet and the service was quick. What more did we want?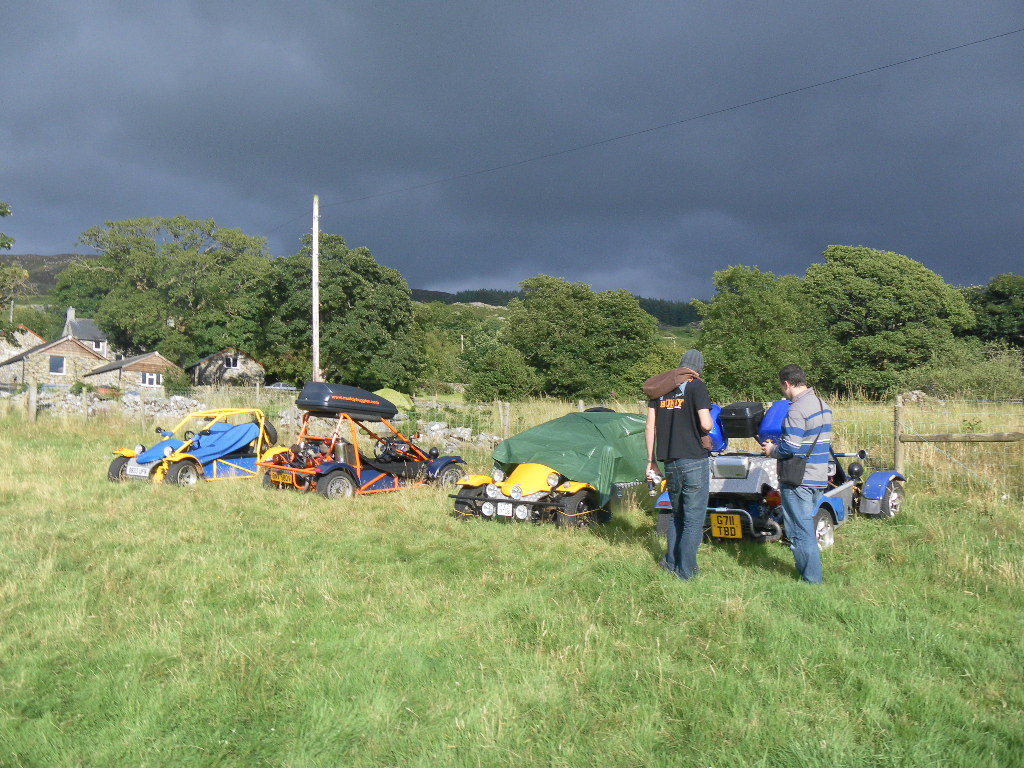 Woke up the following day to bit of dew on the grass and the tents were a little damp but it was a good night sleep and we packed all our stuff away and headed out. But not long after leaving the campsite we realise that Steve was missing, we headed back and found Steve scratching his head, staring at the back of his road legal buggy.
Steve had apparently run out of fuel, but with his fuel tank still full. We soon diagnosed that it was a carburettor problem. After cleaning the float chamber and then realising that he had no fuel filters on we realised that he must have had a bit of crap in the fuel. After adding the fuel filter all was good and were on our way.
We played around the lanes at the reservoirs and we did some good overtaking and generally a great driving day. We got to a town centre and I was at traffic lights waiting for them to turn green then some person behind me was telling me to move, I was unable to move as the lights were red and he was giving me a lot of abuse. So after telling him to get out of his car and tell me face-to-face to move the lights went Green and I snatched first gear, well, at least I thought I did, the gear stick came away in my hand and I looked across at Jane and she jumped out and pushed us off the side of the road.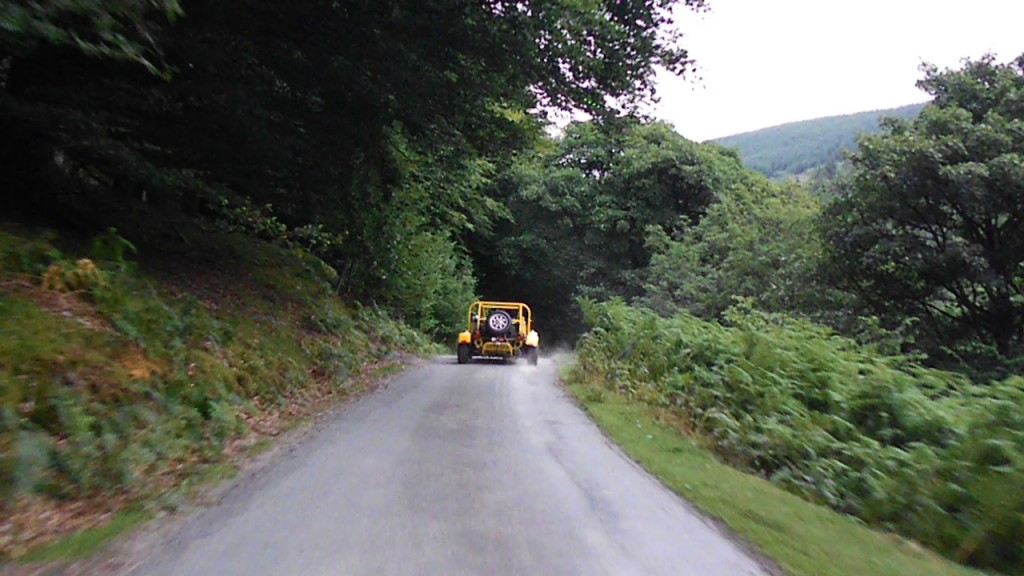 This was quite funny, but the guy behind thought I was coming to argue with him. However, we just carried on getting out of the way
On the side of the road. I was trying to think of ways to fix the buggy, we needed welder so I headed off with Alan to find someone who could weld. We were lucky enough to find a farm equipment servicing centre and they were more than happy to do the welding. I was kind of hoping they would do it free of charge but no such luck. 20 min later I had a bill for 20 quid.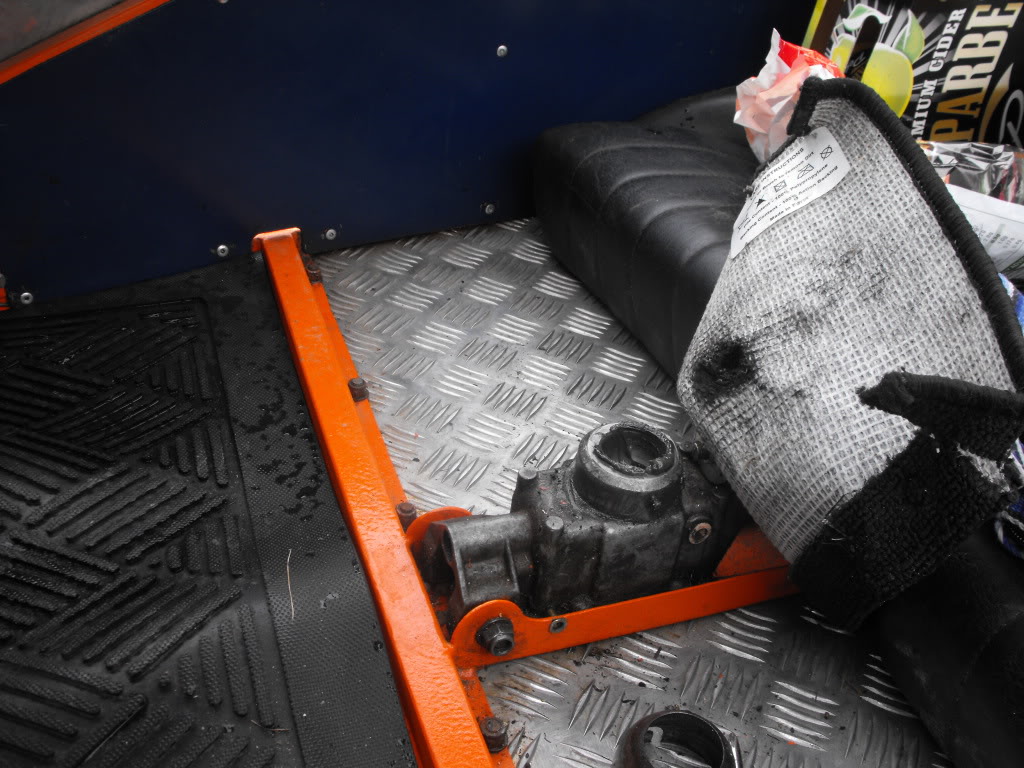 Once we were back on the road again. We had no other breakdowns for the rest of the weekend, it was quite good really, especially as the mini that our cars are based on have massive reliability problems.
The weather by this point had turned quite bad and I was struggling to see and also my road legal buggy is a complete and utter handful in the wet. It becomes very twitchy and the understeer is very scary. So I have to slow right down, but the thing is, the others have no trouble in the wet and they could still push on but I knew if I carried on at the same rates the worst was going to happen, so I dropped right back. I had a few scary moments where the buggy aquaplaned but I managed to avoid disaster 🙂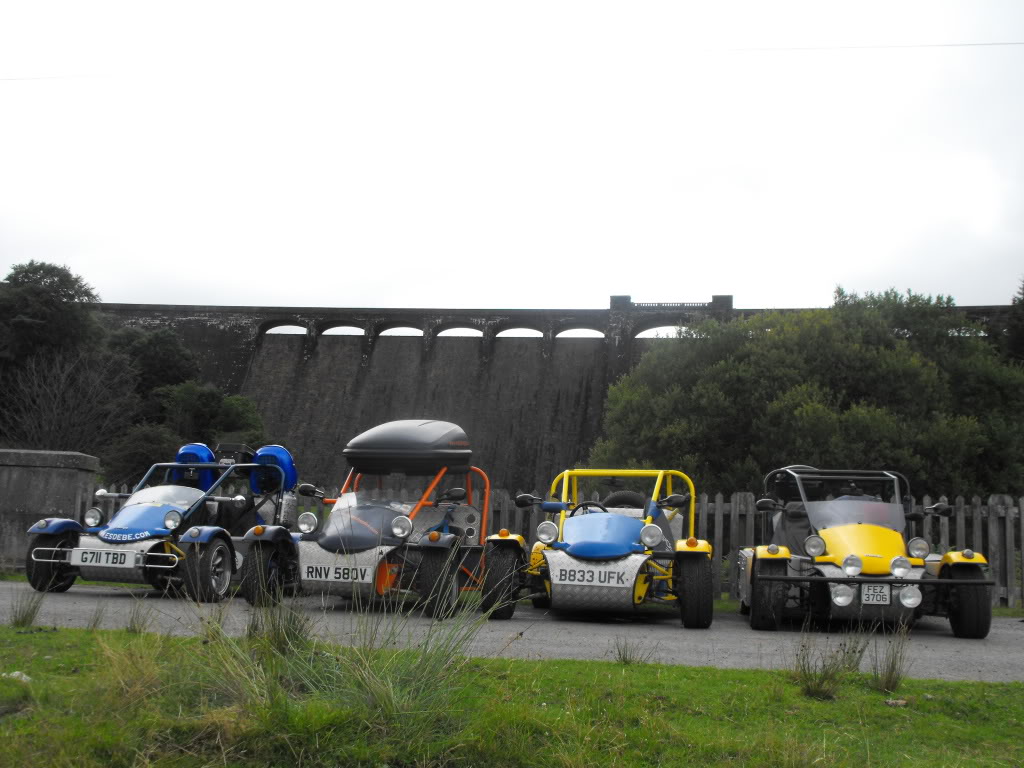 My road buggy is very quick. It does 0 to 60 extremely quickly, but when it gets to 70 it gets a little puffed out this is because my engine was built for grass tracking and also I have small wheels, which is why I have such good handling and cornering abilities. This does affect my top speed, which is not too bad but on long runs and motorways it is quite frustrating. Where as running my old setup of big wheels and a normal 1275 cc engine. I would easily get to 100 mph without worrying and it would sit nicely at 70 mph on the motorway.
The best thing about the Wales trip is that the roads are twisty and have some great corners which is were the freestyle road buggy really excels. The handling is like driving a go-kart and is quick off the mark.
While playing in the lanes, we would trip over a few holidaymakers and locals and they obviously do not like people like ourselves enjoying the roads and we found a lot of them would slow right down just to annoy us, which it did, well it bugs the hell out of me anyway 🙁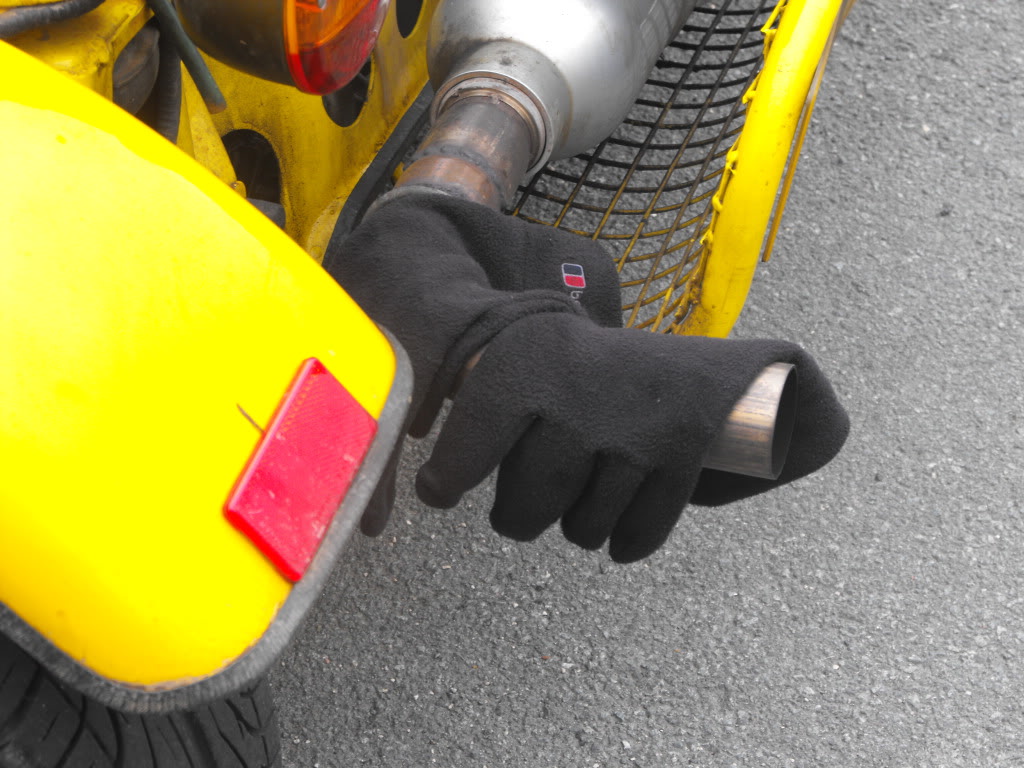 So we would try and get past people whenever we could, and if we cant get past them will just stop and wait for them to get further in front of us so we can give it a good go through the bends.
Overall it was a good weekend with good friends and in something I love to drive. The freestyle road legal buggy is a fantastic machine it is nippy, it handles brilliantly and it gets great attention.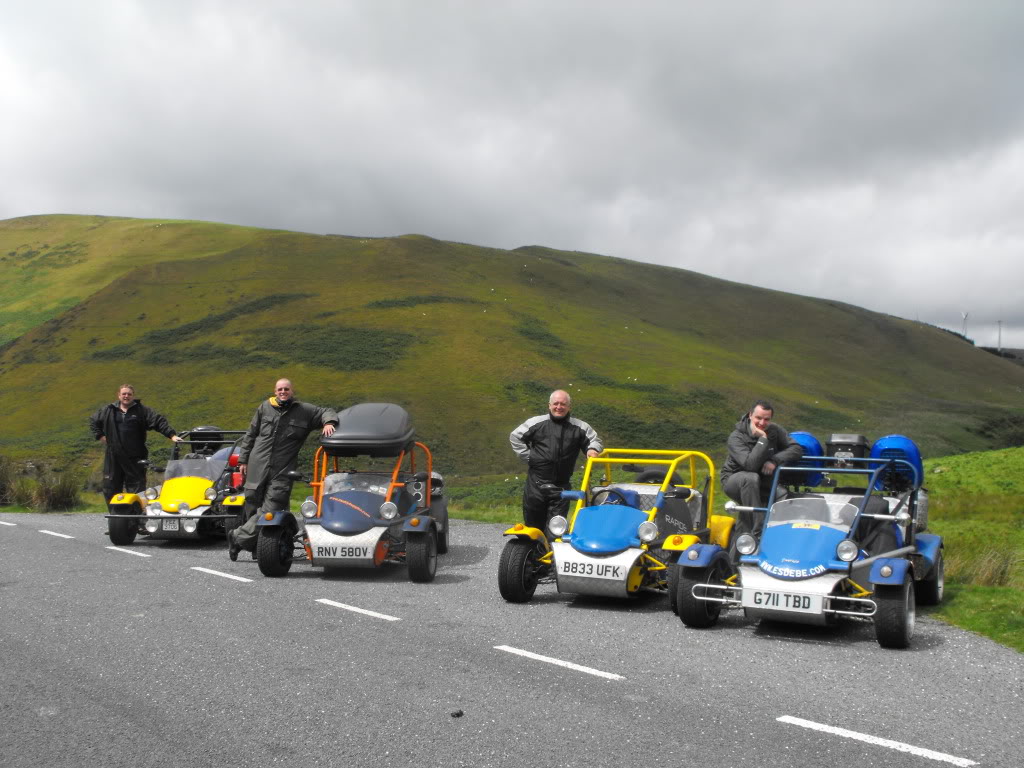 Sorry this report is a year late but I've been very ill and only just getting back into the swing of things. While I've written this. I've just completed the 2011 Wales tour.
I hope you've enjoyed browsing round our site and reading about our adventures and look forward to seeing you possibly some of the events in the near future.