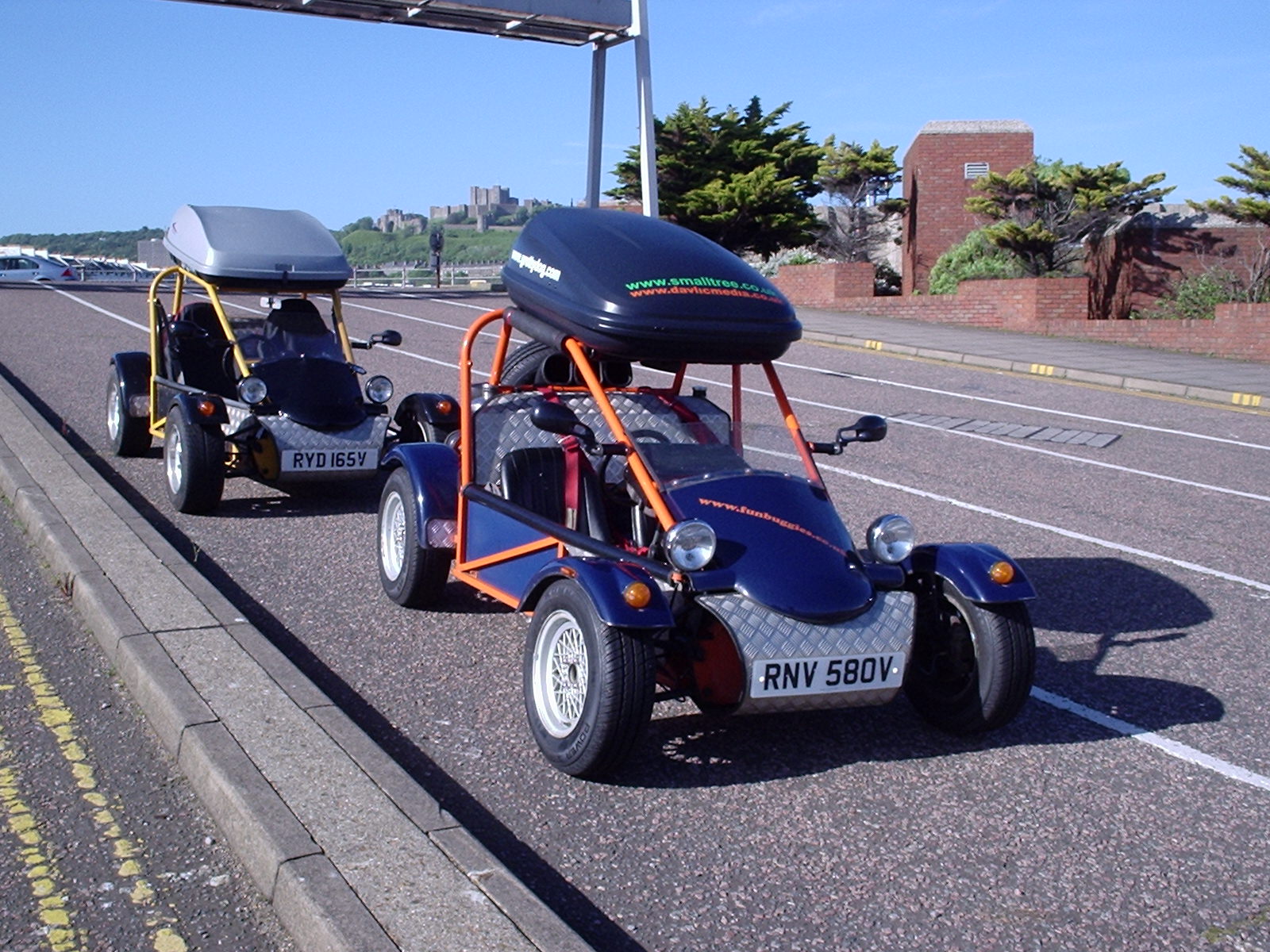 May 26th 2005 I am outside my house strapping the last of my luggage to the freestyle waiting while I am waiting for Dave Smart to arrive from Somerset. He was driving to my house where he would get in my buggy and we both would then go to meet Jon Way and his Daughter Jenny, Jon was driving Dave's buggy down and Jenny was my passenger.
So we headed for Dover the sun was shining and the sky was blue it was perfect Dave was in his usual bubbly mood and i was very nervous about whether my buggy would last the trip. I had spent a lot of time preparing the buggy and I would like to thank my Uncle Gavin for doing a lot of the work while I was out working trying to earn some money for the trip. I instantly noticed that my steering was a bit sticky but I thought its probably just me, and Dave Noticed straight away that a front shocker had a bit more wear in it than we had hoped but this was not really anything to worry about.
The M1 was jam packed so we decided to use the GPS on Dave's PDA to get us round the back roads to dover which was a good laugh. I personally don't like driving on the motorways in the buggy as you tend to get boxed in by people trying to get a closer look at the car.
We Met jon and his daughter in a service station just outside and and we filled up our cars and headed for the ferry. When we got onto the ferry we instantly noticed that it was quite rough which made the trip quite amusing as we were being blown all over the deck but after a beer and some food we were all really in a good mood for what was going to be a trip of a lifetime.
We drove off the ferry waving to a lot of people and as usual we had to fight our way to our cars as the crowds they create is quite unbelievable. We drove off and we headed towards Arras a small town in northern france we arrived early evening at our hotel, we stayed in F1 hotels which are very basic but did what we needed.
We then headed into the main town which is where we had our evening meal and a few alcoholic beverages. We then went back to our cars where we had attracted a few of the local boy racers and we drove back to the hotel.
Arras town center has a vast cobbled market square in the center of Arras, admiring the historic Town Hall, and the 17th and 18th century Flemish houses all around. The square is lined with stone-pillared arcades, built to shelter the merchants' customers while they looked at the displays of goods. All the houses are of similar style – reflecting the strict town planning controls of the town council in those days.
The wet cobbles where proving entertaining in the buggies, but rear wheel drive cars anything slightly slippery becomes a play area.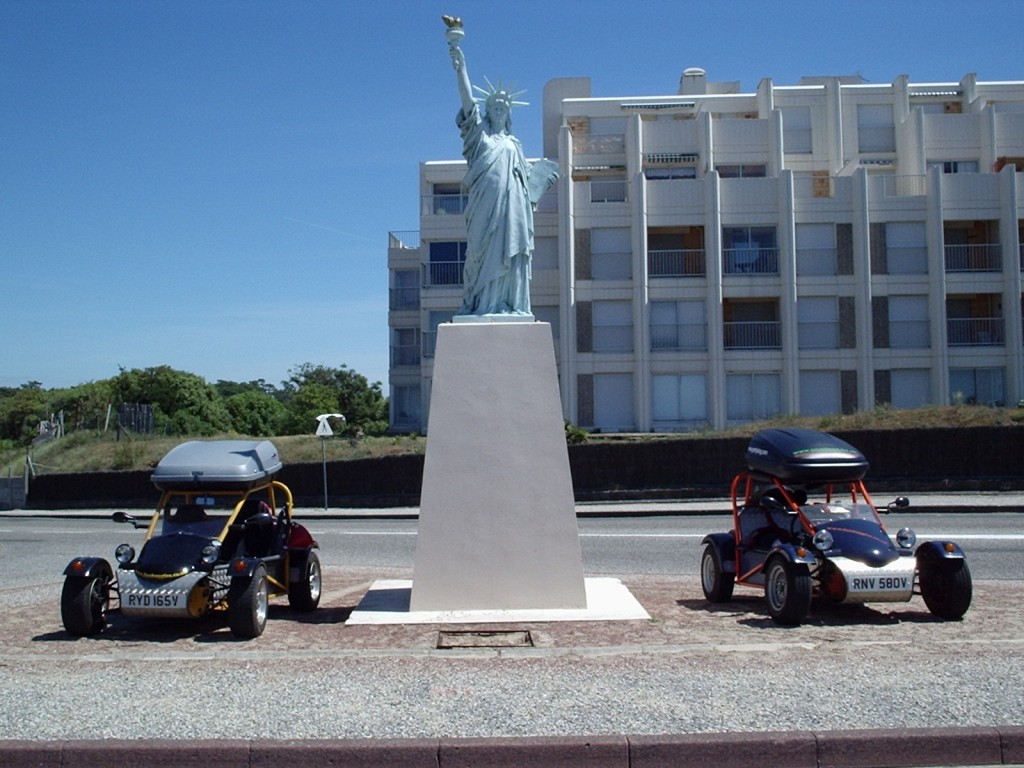 The following day we got up relatively early and checked the buggies for oil and water and then we headed for Paris (oh yeah, we were only using a GPS unit to navigate) this was good fun as the traffic as you know is very heavy and today was no exception, this was the first time I had ever driven abroad and i was struggling but it was a challenge. We drove round the Arch de Triumph and round the Eiffel tower a few times taking photographs and fighting with the traffic.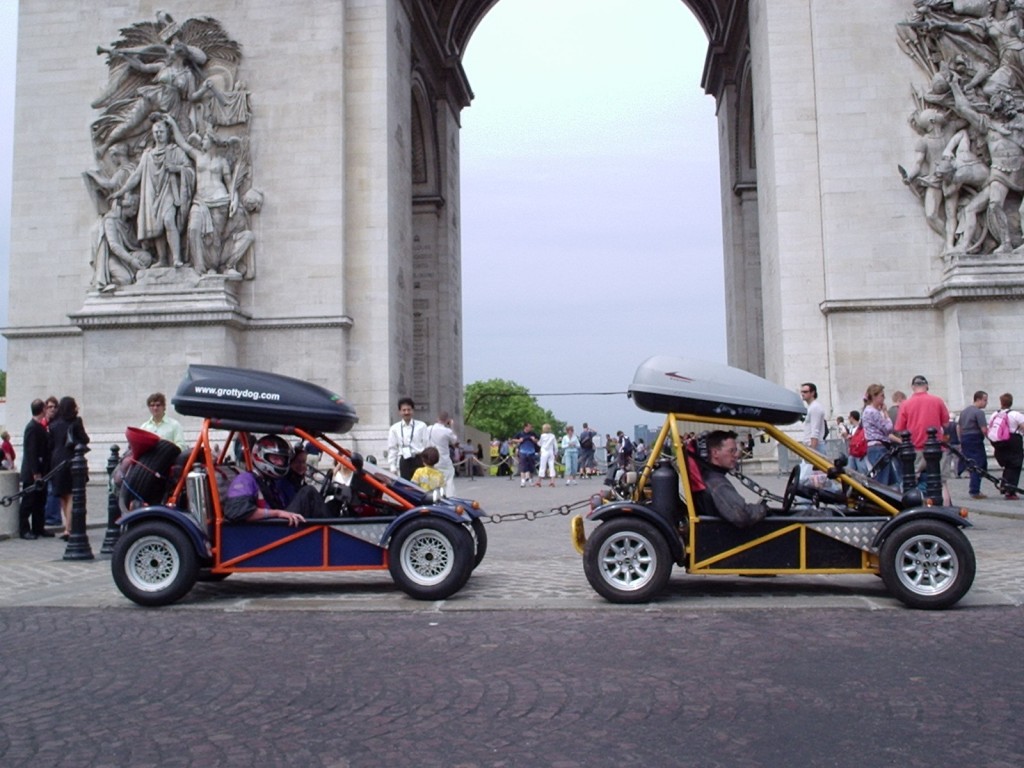 To be honest the traffic and the french where really nice to us as they let us out and waved and they always let both of us out which was good so both the cars never got split up, and we got away doing some really dodgy manoeuvres and the french just kept on smiling.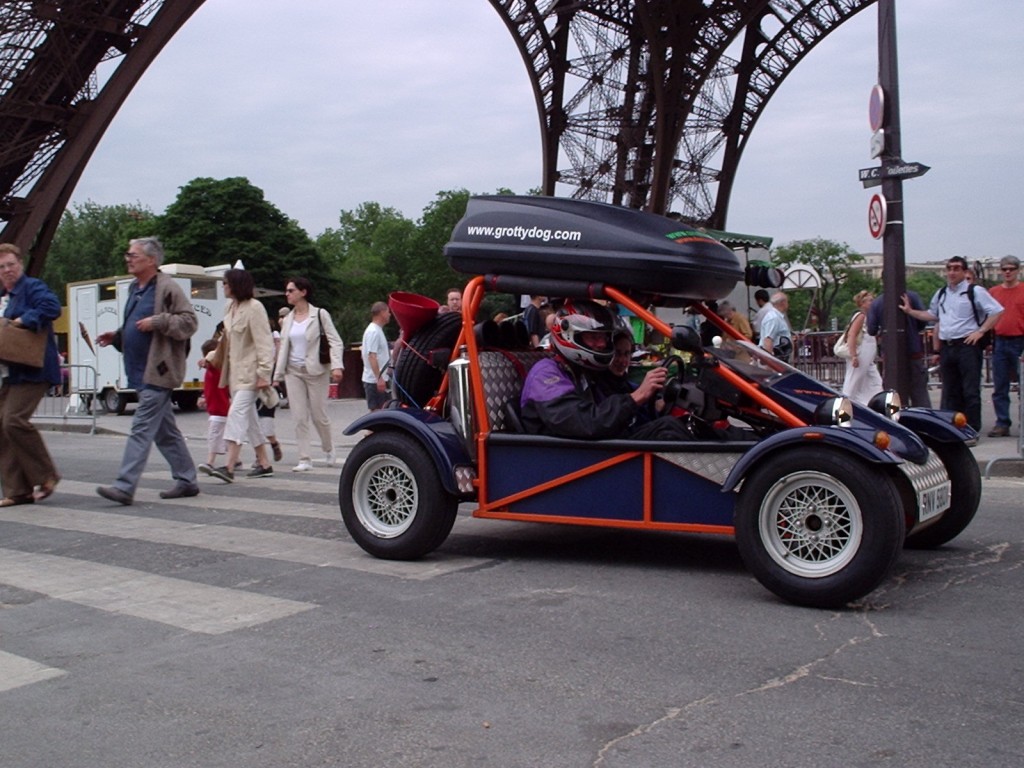 Dave's buggy was having slight clutch problems and it came apparent that the clutch was on its way out and we were only on our second day of the trip but Dave did not worry about this, I however was getting annoyed with the stiffness of my steering and some annoying sounds my car was making but Dave just told me to "shut up and drive" which now to think of it is good advice!
That evening it was just myself and Dave who went out into Paris for our evening meal and what a night we went jazz clubs we went a really nice restaurant and we meant a truly nice french family which we carried on the evening with in another jazz bar…but as you can imagine we had drank a fair amount of beer.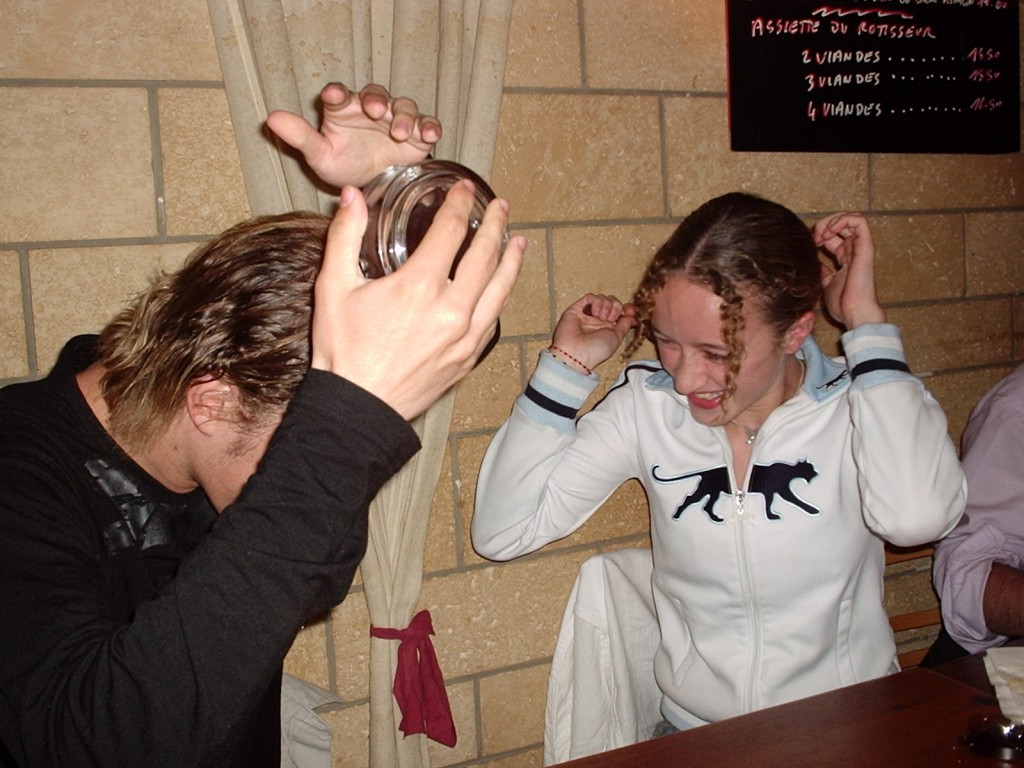 When we got back to the hotel we were looking for prizes….then Dave spotted a flag.. so off i went climbing the handrails to get this flag after falling down the stairs a few times I decide to stand on Dave shoulders and get this flag I had it in my hands I was pulling and tugging but it would not leave the wall so Dave thought it would be a good idea to let go of me and yep you guessed it the flag decided it wanted a new owner.
The following day myself and Dave where feeling rough but it was very funny and the previous evening was good laugh so it was worth it. Today we were heading for a place called Niort and on the way there we where going passed Le Mans I had never been to le mans and my god it was good fun we drove down Mulsanne Straight and round the bends and over the rumble strips it was very good and the best bit was that they where getting it ready for the Le Mans 24hrs so the grass and the gravel traps had all been prepared.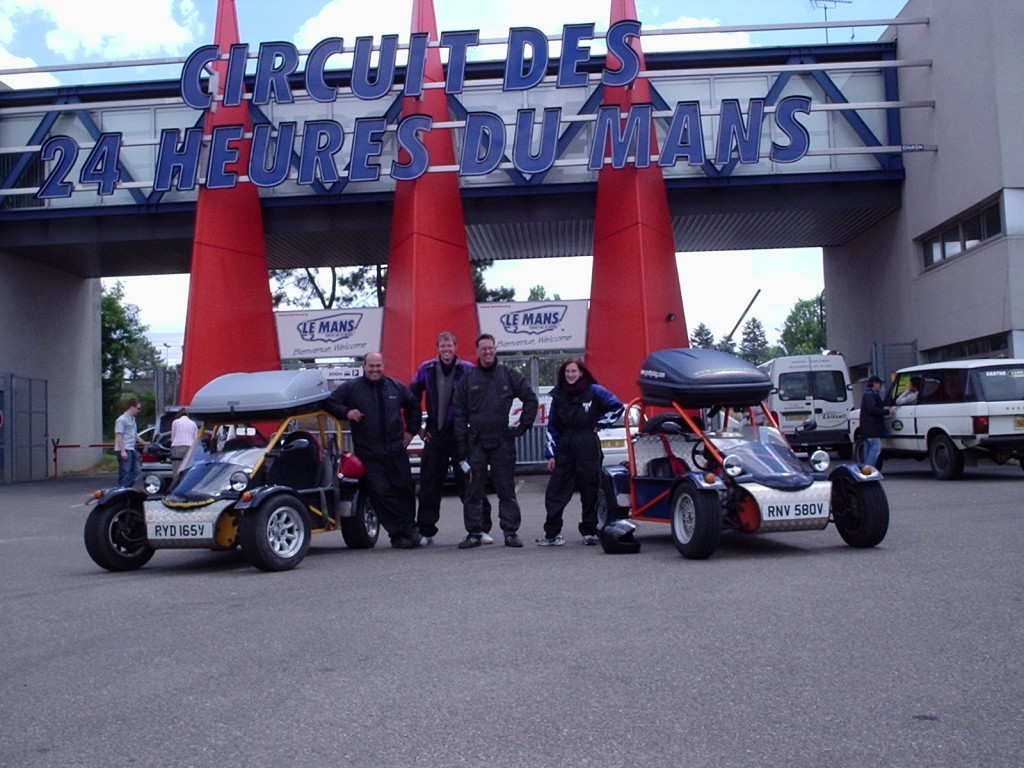 We arrived in Niort and we found our hotel once again it was F1 and we headed out across for dinner with some of the other Minis we met up with Badger and his clan. We drank beer swore a bit then went to bed.
The following day we where heading for Bordeaux, Dave's clutch had pretty much gone now so we where looking for a garage where we could weld up a longer push rod to basically get some more movement in the arm. I by this time had broken one of my wheel arches the bracket had worn weak and the road we were driving down where very rough so this had fractured so we had to put some cable ties and some black bodge take to some good use until we could find a garage that would help us.
We eventually found a garage that would help us repair our car they where a very kind group of lads and lasses who we owe a lot too. We tried a few garages and they just did not want to know and really annoyed us.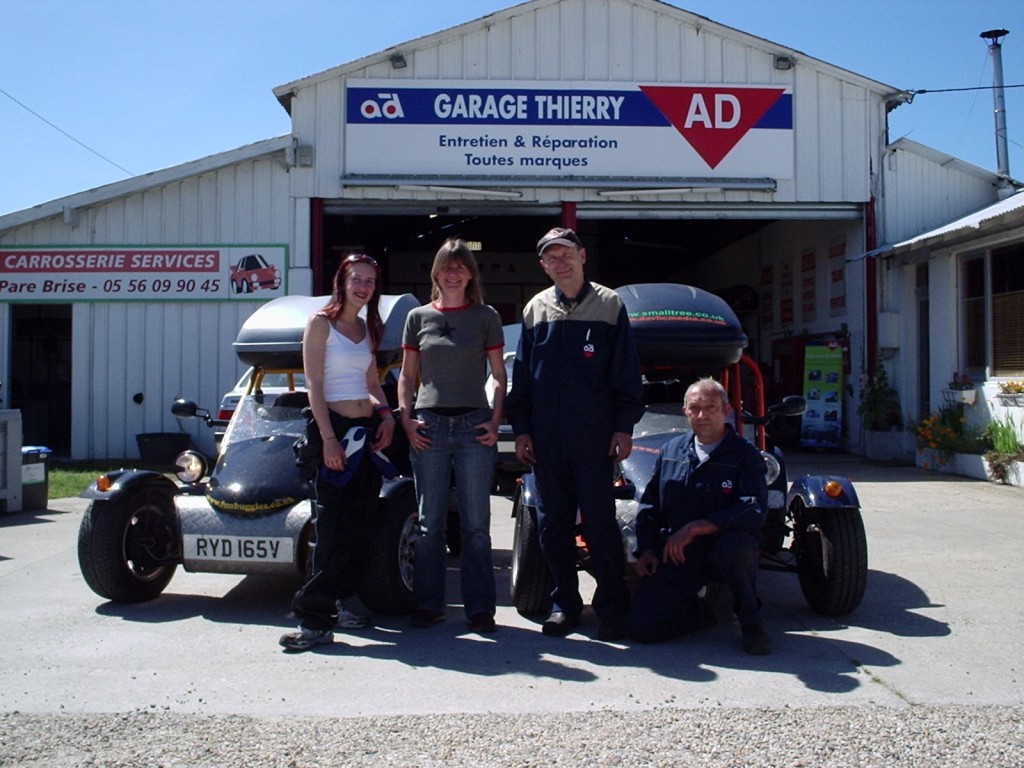 So with all cars repaired we made some good progress and we found our hotel in Bordeaux once again it was a F1 hotel. We caught a tram into the center where we had our evening meal and drank the local beer and discussed the days events, we where all looking forward to the following day as we where going over the Pyrenees we all went to bed for a fresh start in the morning.
So today our destination was Andorra so we headed down the coast using and stopping off at random places to pee and take photos and then we headed for the mountains and my god this was fun, Dave was driving my buggy and we where pushing it up the mountain but only on the left hand bends because the right hand bends all my engine and gear box oil went to the wrong side. We where trying to make by buggy step out but we struggled to get tyre squeal my buggy was driven and handling amazingly we where leaving Dave's buggy behind, but that was because Jon was being a bit too cautious. A Mercedes Sprinter van caught us up we could not believe how fast this guy was going so we let him past and boy this man was flying.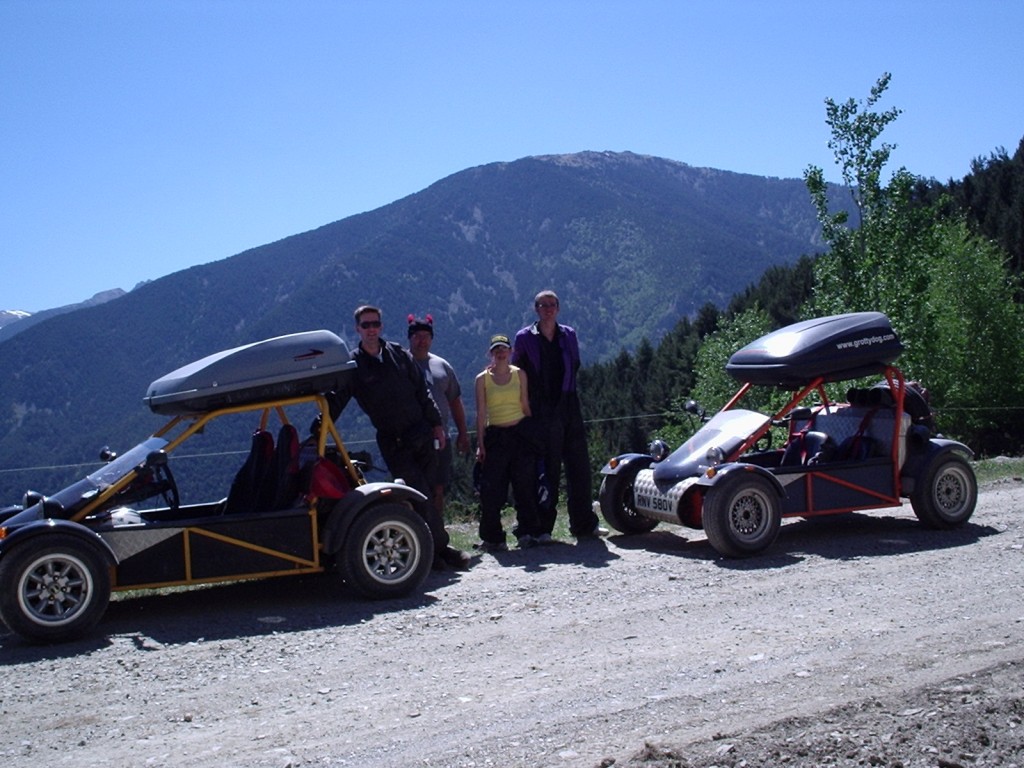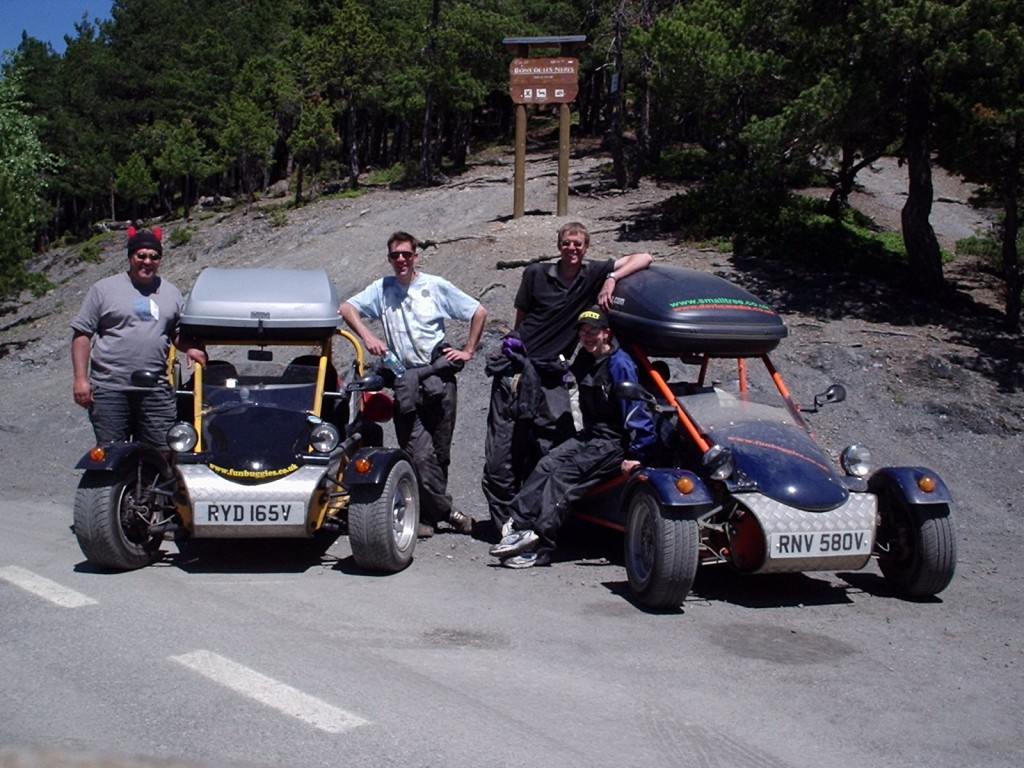 So we get past the customs and passport control for Andorra and we are at about 8500ft above sea level my buggy wouldn't tick over because the air was too thin and Dave's Buggy had over heated so we waited until Dave's had cooled down and we continued on.
we met up with the other guys in the Minis again in Andorra and we stayed in what would appeared to have been a 5 star hotel we had to go into town for our evening meal and not much was open so we had to have fast food, well we ordered and we waited and waited our my Pizza arrived burnt and nobody else's came for another 30 min's we ate we got up and we left we did not pay and they didn't even notice because most of the customers where doing the same. On the way back to the hotel i lost my clutch absolutely nothing completely gone flapping peddle so I decided i had to learn clutch less gear changing which was great fun.
The following day we made our way to the super market and this is where we bought the essentials, beer and fags and then we obviously bought petrol (Andorra pays no VAT!!). We where now heading for Barcelona we got there without too many problems my clutch was coming and going and Dave's had pretty much given up but we where still making good progress. We headed straight for some un made mountain roads which we crawled up which was very good fun I managed to rattle my headlight off and break both wheel arches, these road are seriously bumpy.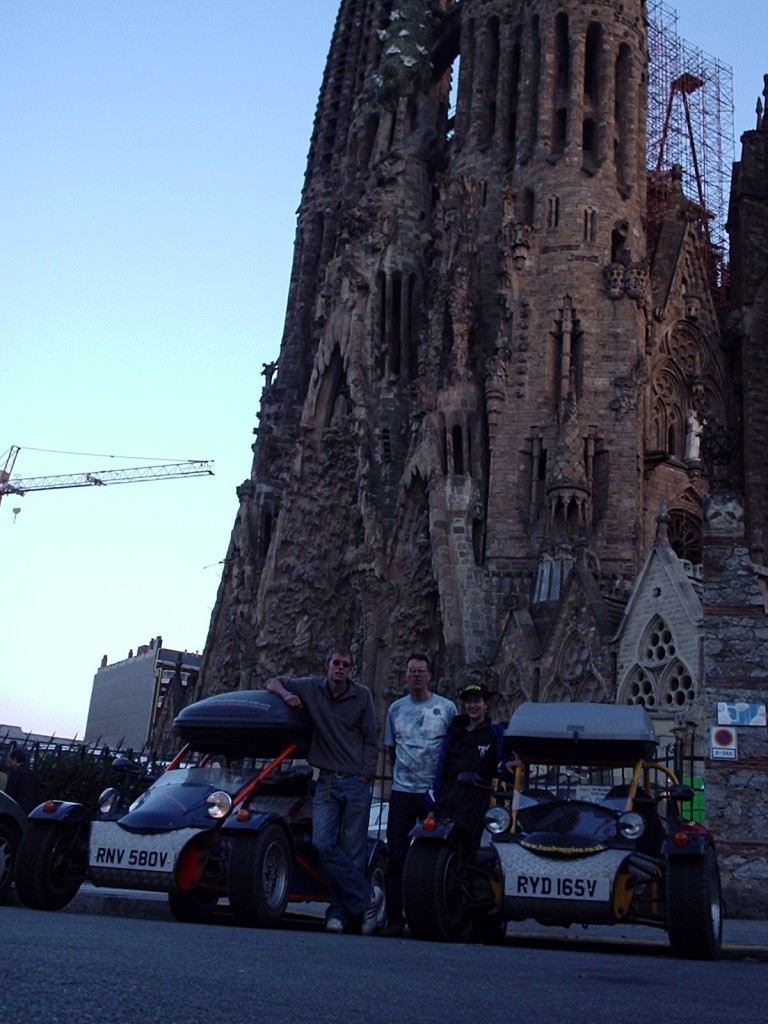 We arrive to Barcelona and we did most of the touristy things like looking at the unfinished cathedral and some of the famous parks we then continued on to Salou which is where we were staying. we arrived at the resort too late to drive in and park so we walked in and set up our tent and then fell asleep. When we woke up the following day we realised we had set our tents up in the biggest ants nest around so we decided to move to a greener patch of grass and that's pretty much where the cars stayed all week end.
The facilities on site where truly brilliant hot water all day very clean showers in fact i couldn't have asked for more. The show was very good in itself we drank a lot we socialised a lot more we swam in the pool where you actually swam to the bar.. how cool.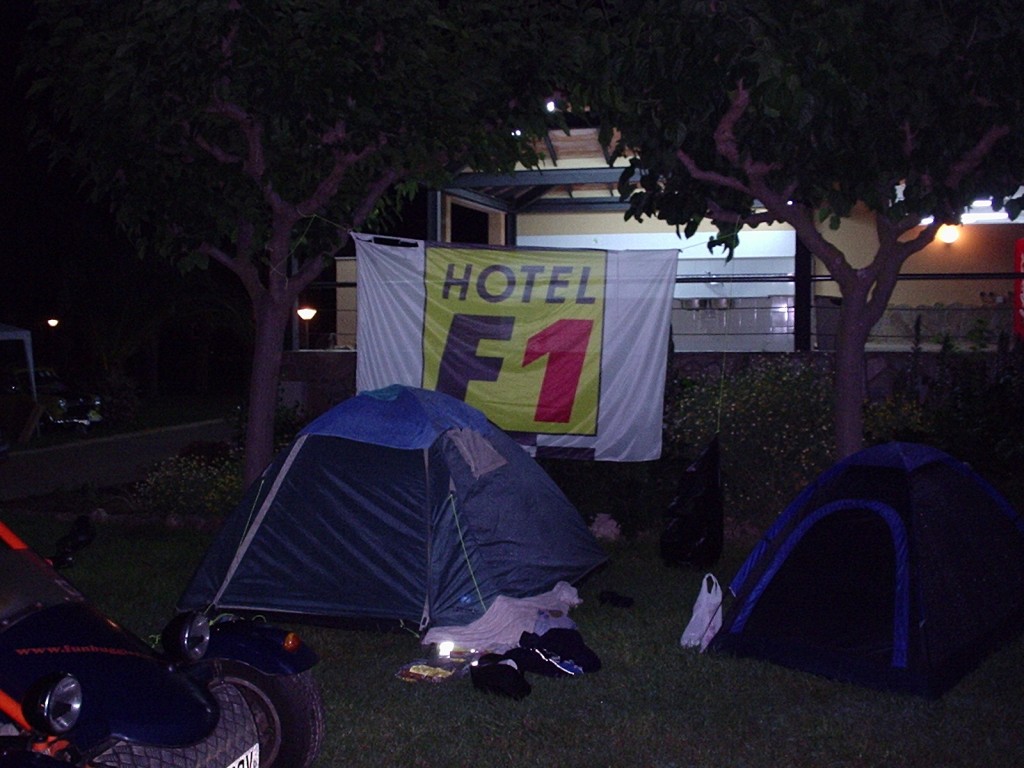 We also repaired my wheel arches and sussed out the problem with my steering and we managed to weld the light back on as well.. result. We left Salou on the fourth day and we headed for Perpignon we then went over the milau Viaduct truly amazing piece of architecture. we then headed for Claremont Ferrand where we ate in a very nice bar and got chatting as best we can to the locals. we then went back to Paris where we ate well and drank even more. I had a few problems with an air filter which slowed us down quite a lot but we sorted that problem out pretty quick.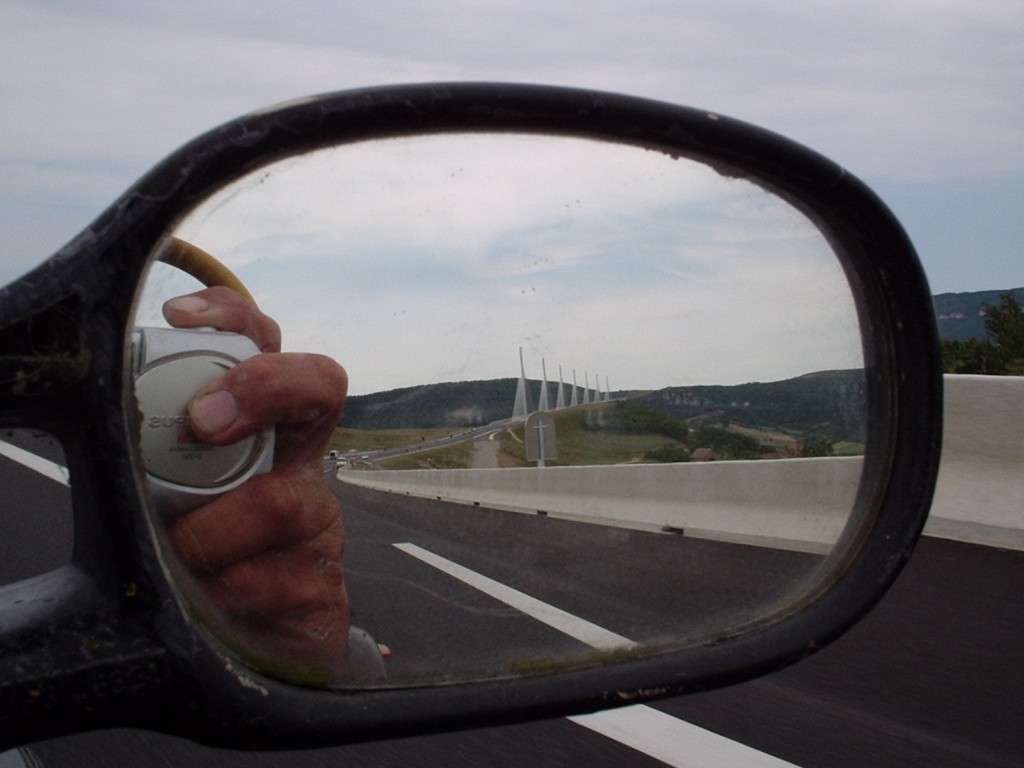 We then made it back to calais and we spent that evening getting absolutely obliterated in the bar with the landlord. The trip home was quite un eventful things went quite well and we had to make a lot of progress so we stuck to all the motorways as we had a boat to catch.
This trip was one the most exciting tiring things I have ever done and I recommend road trips to anybody.
We are off to Poland in May 2006 which i hope will go smoothly too.