This will be a long thread... I do apologise but I am useless with electrics so bear with me.
I need to wire in the OBD2 diagnostic port back into the buggy as I have a fault and this will be an easier way to find it (i hope)
I have the OBD2 port and luckily I left tails on it... which makes things easier...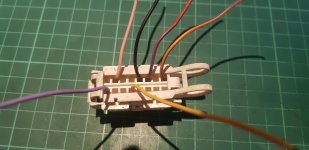 So the wire colours I have are... and I have pinpointed what they do as well
Bottom row from left to right...
Purple (P) = Ignition live through a 15 amp fuse
Yellow Pink (YK) = Air bag Control unit
Top row from left to right
Pink (K) = Goes to MEMS ECM (467) & ABS Control Unit 229
Black (B) = Earth
Red Blue (RU) = Goes to Alarm ECU (752)
Orange Blue (OU) = Goes to Alarm ECU (752)