Up at 04:20 to beat the traffic last Saturday for a 6Hr round trip. Been after a freestyle for ages, shame it isn't road registered but they just don't come up that often, especially near me.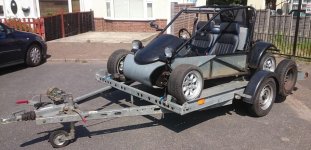 Trailer tows well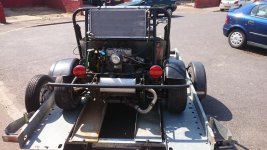 Black was my prefered colour, needs a strip & re-paint as been sitting for some years.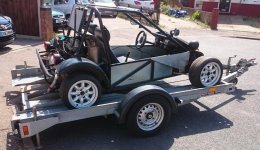 Engine starts & runs, no brakes though- new master cyl needed. The chap I bought it off built it & had intentions of SVA but had access to a field so kept it off road. Covered in hay, even has hay inside the guages!
I am fairly tall so not much room, the gear stick is very long and fouls my knee so will try & get a shorter stick Also I need a pedal box that is mounted in the passenger side which will give me more room.
First thing is to make a shopping list
This is what I have so far...
4 x Wheel centre caps
Pedal box (passenger side mounted)
Spare wheel & bracket (Alan has kindly offered the bracket)
Shorter gear stick
Brake master cyl
New guages, (may try & refurb the old)
Fuel tank to go behind the seats
Chris