Got my IAC today (individual approval certificate) which is a right result and now it means I can fit these.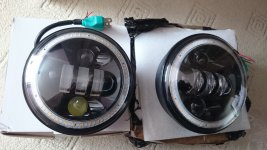 A nice pair of LED headlights, I couldn't fit them pre IVA as the manual states you need to have auto level lights if you have LED or zenon projector lights and also a washer which I have both on the focus ST and that looks like hard work...
The re-test went well and the sun was shining.
Another hurdle jumped through and now I can apply for registration, hope I get my age related plate.